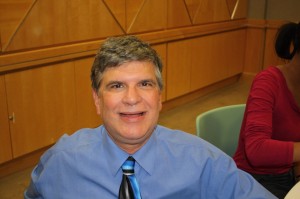 Pride Center offers plenty of "senior stuff": an interview with Bruce Williams.
This essay originally appeared in South Florida Gay News (SFGN). Though it is about a South Florida organization, it deals with issues that all LGBT Seniors must deal with, no matter where they live.
The Senior Advisory Council (SAC), a program of the Pride Center at Equality Park, works in concert with other groups to promote visibility and awareness of LGBT seniors and their issues through supportive, educational programs and activities. On January 3, 2013 Bruce Williams became the Center's Senior Services Coordinator, in charge of overseeing senior activities. Williams comes to his new job with excellent credentials: "My first post-college job was with The Oneida County Department of Social Services where my role was to provide services to nearly 100 Spanish-speaking families living in upstate New York. After working a mutual case with Charlotte Harvey, Director of Social Services at St. Luke's Hospital , I was offered a position, left the county and began my acute care experience. Loving my hospital work but hating the cold, my loyalties were tested when I was offered the Assistant Executive Director's position at Treemont of Houston – a continuous care retirement community. I accepted the offer and worked in that position for 12 years. When our Director decided to retire, I was promoted to her position and served in that capacity for another 12 years until my retirement. All of the above combined to afford me an immeasurable understanding of our aging process from home-based aging in place, to acute hospital stays, rehab/long term care residency and finally to end of life activities."
According to Williams, the Senior Advisory Council began when "the Center organized a group of skilled volunteers in the community to advise, organize, create and coordinate activities, events and resources for LGBT Seniors. Spearheaded by passionate seniors in the community, the Center saw an unmet need and organized to better serve local seniors. At one point, grant funds allowed the Center to employ a part-time Senior Service Coordinator. Thankfully, due to the generosity from some local foundations and the proceeds of our annual Senior Health Expo, the Center was once again able to hire someone dedicated to expanding and enhancing Senior services."
The SAC's goal "is to further the Pride Center's efforts to provide a safe, welcoming, inclusive space for everyone. We do this by planning and sponsoring social activities, offering education that addresses our diverse needs, acting as advocates, collaborating with other service providers, promoting interaction with members of the community at large, providing community resource materials and promoting intergenerational communication," Williams says. "Studies have shown that members of today's senior LGBT community have fewer family, social and financial resources than their heterosexual counterparts. Many LGBT seniors have become estranged from their families and may only have their partner and/or a small circle of friends to help them face the many issues of aging. During the working environment in which these folks existed, they often had to remain closeted or face losing their jobs as a result of prevailing and powerful homophobic attitudes. As a result both the numbers and needs of the current LGBT community have been not only understated but have remained almost invisible." The Pride Center tries to deal with this dilemma by providing LGBT seniors with a NORC: a Naturally Occurring Retirement Community. "In so many respects," Williams adds, "the Pride Center has emerged as the NORC for all LGBT seniors in South Florida. With its mission as a safe, inclusive and welcoming place, the Pride Center has provided the opportunity for the SAC and our community at large to convene, to identify, to assess, and to address our mutual needs."
The Pride Center's web site (www.pridecenterflorida.org) lists a variety of "senior stuff" organized by the SAC. According to Williams, the "flagship of the Center's senior programming is our 'Coffee & Conversation' programs every Tuesday at 10 am. Each week over 100 people show up to enjoy coffee, goodies and to hear from our weekly sponsor. Our Tuesday gatherings also include planned afternoon activities" which alternate between "Games Days" and "Speakers Series." The Center also provides seniors with an Enhance Fitness Program (in conjunction with the YMCA of Broward County), a Matter of Balance course, bridge game gatherings, Pinochle and Hearts sessions and even Mahjong. While "Coffee & Conversation" draws over 100 followers, the afternoon sessions attract between 25 and 50 attendees while the exercise classes are enjoyed by 150 people. Women comprise about 20% of most program participants.
The SAC also works with other groups, such as SAGE (Senior Action in a Gay Environment), Prime Timers and Broward Meals on Wheels. According to Williams, "in the past, some of our morning participants would leave for lunch and not return for the afternoon session. Broward County Meals On Wheels has graciously come to our aid and now provides lunch on a weekly basis. Not only has this helped increase afternoon participation by those individuals who formerly left after the morning session but it has also drawn a number of individuals who previously remained isolated and with limited social contact in their homes. SAGE sponsors 'Coffee & Conversation' and offers a weekly Men's Drop-In and Computer Class. The Prime Timers hold their monthly meeting and pot luck dinner at the Center and are most active in sharing information about all goings-on that occur."
Williams's position is funded in part by proceeds from the Center's annual Senior Health Expo and a gift from the Howard Greenfield Charitable Foundation. The Foundation, Williams says, "recently awarded the Pride Center a $25,000 gift dedicated to Senior Services. The Center also received a $2,000 gift from the Vasquez Family Foundation Fund of the Community Foundation of Broward. The Center is humbled and honored by these gifts and remains committed to using the money wisely and strategically to enhance LGBT Senior Service locally." Though most of the center's senior activities are of a social nature, Williams would like to offer more on the "enlightenment" side: "We all face issues as we grow older. Perhaps because I have worked with the elderly for several decades, I am more acutely aware of the need for advance planning. That we will age is a given but one can choose to become more aware of aging process and the resources available."
"The SAC has a history of identifying and meeting the needs of our community. We recently provided 2 AEDs (Automatic External Defibrillators) that could literally save lives at the Center. In response to a seating issue, the SAC initiated a campaign, raised money and provided the chairs as needed. The SAC recently contributed nearly $2000 toward renovation of the exercise area in Bldg B. In conjunction with AARP and the Area Agency on Aging, we have scheduled a CarFit Program which will help area seniors to make certain their vehicles safe and maximized for their best use. Plans are underway to schedule Safe Homes programs where information is made available to increase safety and optimize living arrangements in one's home. Needs of our seniors are ever evolving and the SAC is prepared to continue to identify, to initiate and to adapt where necessary in an effort to provide the needs of our aging LGBT community."
By Jesse Monteagudo