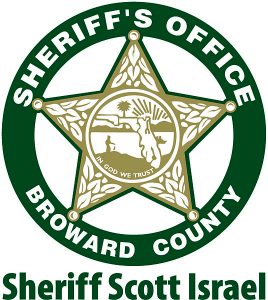 The Broward Sheriff's Office (BSO) has come a long way since May 3, 1991, when Sheriff Nick Navarro (1985-1993) and his deputies raided the gay Copa night club with his wife and visiting dignitaries in tow. Navarro's successor, Sheriff Ron Cochran (1993-1997), turned the tide in favor of the LGBT community. Sheriff Ken Jenne (1998-2007) met with representatives of GUARD – Gays United to Attack Repression and Discrimination – including this writer. Sheriff Al Lamberti (2007-2013) continued the BSO's outreach to the LGBT community and, though a Republican, won the gratitude of some gay Democrats who voted for him when he ran for re-election in 2012. Even so, Lamberti lost to Democrat Scott Israel, the Police Chief of North Bay Village.
On January 8, 2013, Scott Israel was sworn into office as the sixteenth Sheriff of Broward County. Sheriff Israel is Florida's first Jewish sheriff. Though as devoted to the cause of law and order as any other officer, Sheriff Israel is a bona fide progressive in comparison with some of his north and west Florida colleagues. According to the BSO web site (sheriff.org, obviously a biased source), Sheriff Israel "diversified the department, redirected BSO's mission to focus on reducing violent crime, keeping kids out of jail and addressing the disadvantaged members of our community, including the homeless and mentally ill." Though not without his faults, Sheriff Israel's leadership earned him a victory in the August 30 primary election against three other Democrats and makes him the favorite to win a second term in the November 8 general election.
The BSO is more than the Sheriff, of course. It is made up of 5,800 employees, including 3,100 deputies and 600 firefighters. Under Sheriff Israel's leadership, the makeup of the BSO more closely resembles the community that it was formed to serve. Though Sheriff Israel has been criticized for hiring his friends and political allies, he remains committed to his pledge to employ the best and the brightest, regardless of race, religion, ethnicity, gender or sexual orientation: "Surround yourself with lions who share the same mission," as he told Daniel Hicks of the Agenda. Sheriff Israel's LGBT appointments include some of our community's best-known activists, including General Counsel Ron Gunzburger, Deputy General Counsel Patricia Windowmaker and Assistant General Counsel Stephen Muffler. To this list we should add some good friends of our community, such as community advocate Patti Lynn. When BSO Detective David Currie married his husband in 2016 he proudly wore his BSO uniform – with the Sheriff's approval.
Under Sheriff Scott Israel the BSO strengthened its already-existing non-discrimination policy by requiring department vendors on contracts worth more than $100,000 to provide health coverage for their employees' same-sex partners and to institute the same kind of workplace diversity policies as the agency they supply. For LGBT Pride Month 2014, Sheriff Israel issued a proclamation where "we recognize and celebrate the amazing impact that lesbian, gay, bisexual, and transgender individuals have had on our community. … We now openly embrace the multicultural diversity of our community which makes us a better, stronger and more united Broward." Sheriff Israel and some of his deputies take part in the annual Stonewall Parade on Wilton Drive and BSO representatives regularly attend LGBT community events, such as the Pride Center's weekly "Coffee and Conversation."
This year, the American people's attention is aimed at the upcoming presidential election. However, we should remember that many "down ballot" races are equally important and, in some cases, even more important. On November 8, Broward Sheriff Scott Israel faces a Republican opponent, retired BSO Sergeant Santiago Vazquez. Unlike 2012, when there were some honest reasons to vote for Sheriff Lamberti, there is no doubt where we stand this year. Vote to re-elect Scott Israel as Sheriff of Broward County.
Jesse's Journal
by Jesse Monteagudo