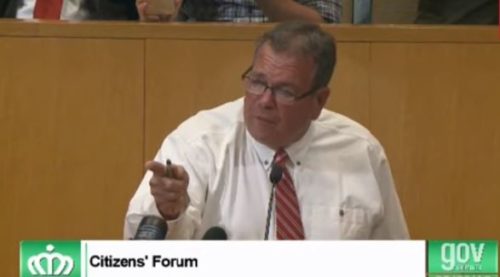 Anti-LGBTQ preacher Flip Benham thinks he knows what is really causing the days of unrest in Charlotte following the police shooting of Keith Lamont Scott: the passing of a non-discrimination ordinance, which HB2 invalidated.
Benham showed up at another Charlotte City Council meeting last week to share his fire and brimstone worldview.
After reading some rabble-rousing text from the Bible about prostitutes and watered-down wine — specifically Isiah 1:21-23 — Benham did what he does "best" and demanded a repentance, from Mayor Jennifer Roberts.
Rehashing rhetoric from a previous city council meeting in August, Benham continued to stoke the flames of fear by saying, "blood is going to course down the corridors of our schools, our workplaces and our streets."
"It is you that unleashed hell in our city when you tried to say that boys and girls are not that," he yelled. "You did it! Now repent, Jennifer Roberts, in the name of Jesus Christ!"
Full story:
Source: Flip Benham says LGBTQ rights to blame for unrest after police shooting