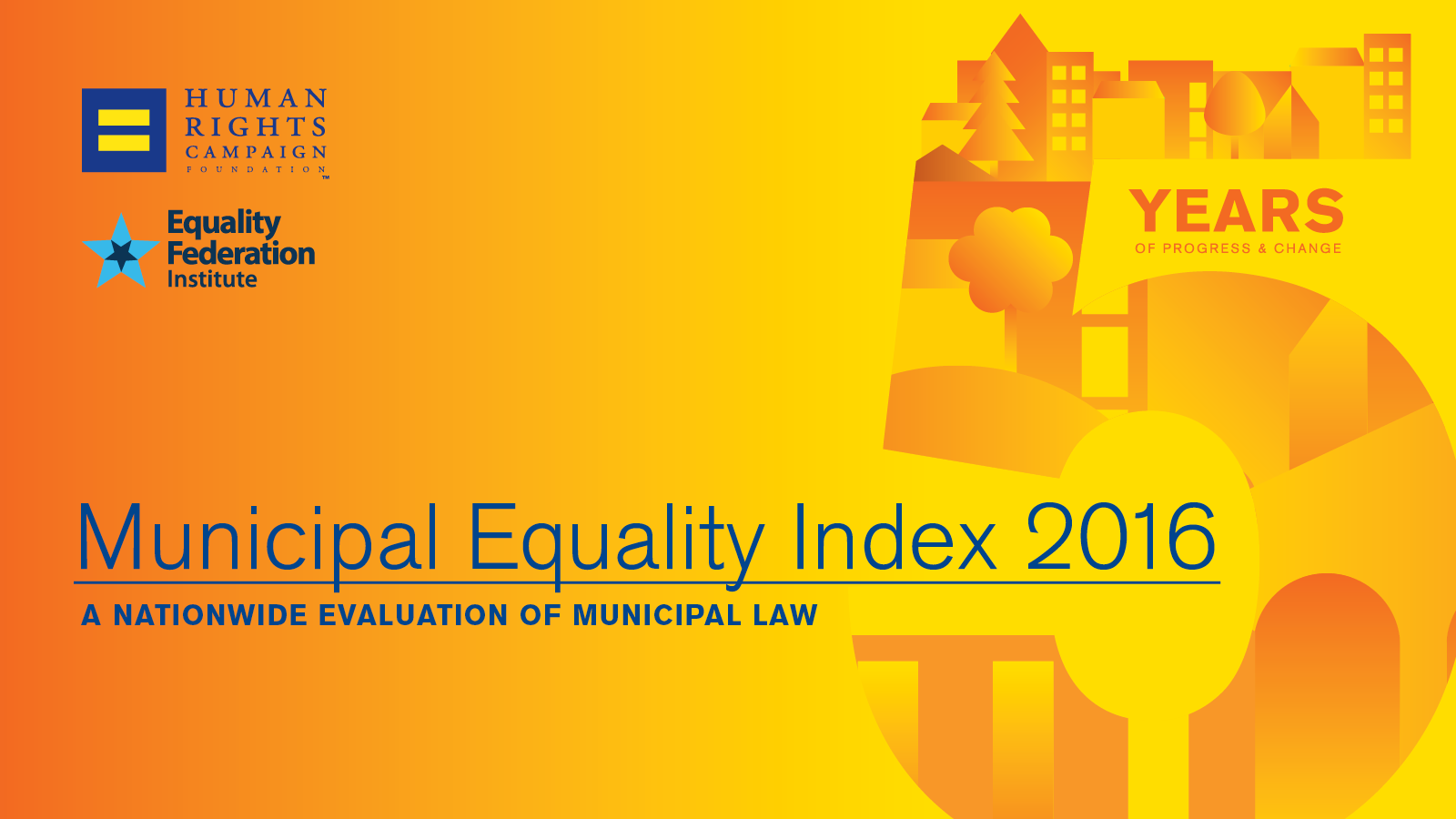 Today, HRC Foundation, in partnership with the Equality Federation Institute, released its fifth annual Municipal Equality Index (MEI), the only nationwide rating system of LGBTQ inclusion in municipal law and policy.
The 2016 MEI reveals that cities across the nation are not waiting for their states to extend vital protections to the LGBTQ community, nor are they intimidated by some state elected officials threatening to deny cities the ability to extend fully-inclusive protections to their residents and workers. Instead, municipalities in red states and blue states alike are boldly enacting laws and policies prohibiting discrimination against LGBTQ people in employment, housing and public accommodations, and working to ensure that everyone is guaranteed the same access to city services.
This year, 60 cities earned perfect scores for advancing fully-inclusive policies and practices — up from 47 in 2015 and 11 in 2012, the first year of the MEI — at a time when the nation has been seeing a record number of anti-LGBTQ measures proposed by state elected officials bent on promoting discrimination. These efforts include legislation like North Carolina's notorious HB2 that bars cities from passing LGBTQ-inclusive non-discrimination ordinances.
However, in contrast to the shameful action by the North Carolina General Assembly in pre-empting Charlotte's non-discrimination law, cities across the country are embracing equality by passing comprehensive non-discrimination ordinances, removing harmful exemptions in existing ordinances, and expanding city services to best serve the LGBTQ community.
"This year, dozens of cities across the nation showed they are willing to stand up for LGBTQ people in their communities even when state governments are not," said HRC President Chad Griffin. "This builds on a trend we have long observed: that local governments are at the forefront of our fight for equality. Unfortunately, our opponents have witnessed this progress too, and in recent years, anti-LGBTQ lawmakers have pushed spiteful legislation aimed at pre-empting local protections. That's why it's so important that we continue to not only fight for equality at the state and local levels, but to enact comprehensive federal protections for LGBTQ people under the Equality Act."
"Despite another year of legislative attacks on LGBTQ equality, we are not merely holding our ground; we also continue to make significant gains across the country," said Rebecca Isaacs, Executive Director of the Equality Federation Institute. "The opportunity for further progress is huge, and we are proud to partner with HRC on the Municipal Equality Index, a powerful roadmap for elected officials and community advocates who want to continue down the path to full equality."
Since the MEI's debut in 2012, the number of cities earning perfect scores has more than quintupled, and today at least 24 million people now live in cities that have more comprehensive, transgender-inclusive non-discrimination laws than their state. And cities that have been rated all five years of the MEI have improved their scores by about 20 points over that time.
Fulll story:
Source: Human Rights Campaign Releases 5th Annual Municipal Equality Index