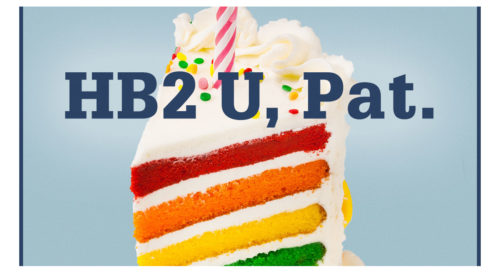 Gov. Pat McCrory is having a hard time finding friends these days, as he recently told a room full of anti-LGBTQ pastors just hours before deadly Hurricane Matthew hit North Carolina.
McCrory, it just so happens, allowed a bill to go through in August moving $500,000 from disaster relief to a defense fund of the discriminatory bill he signed into law, HB2, which nullified all non-discrimination ordinances in the state, doing away with LGBTQ protections.
The bill has cost the state millions of dollars and thousands of jobs. It could likely cause him to lose his own job November, as his opponent, Attorney General Roy Cooper, has begun to open up a lead according to polls.
A group calling itself Writers for a Progressive North Carolina wants to make sure everyone remembers the damage that McCrory has done to the state, even if it is his birthday and people might be tempted to be nice to him for a change.
The group purchased a full page newspaper ad in today's the News & Observer with a headline reading, "HB2 U, PAT" and a picture of a rainbow layer cake with a single candle on top.
Full story:
Source: Antigay North Carolina governor trolled on birthday with full page newspaper ad