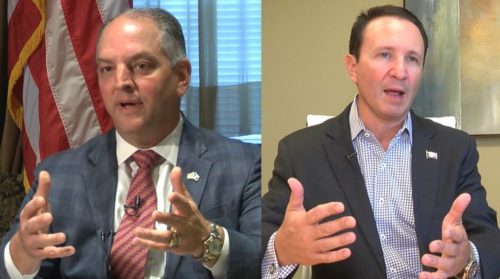 BATON ROUGE, La. (AP) — Louisiana Gov. John Bel Edwards' attempt to force the state attorney general to sign off on legal contracts that include anti-discrimination language to protect LGBT people was thrown out Monday by a state judge.
Judge Donald Johnson dismissed the case, saying the law doesn't spell out clearly what the attorney general's authority is in reviewing the contracts and whether Attorney General Jeff Landry's role is only "ministerial" in nature, as the governor's office suggested.
"I believe the law is uncertain, that it does not provide the court with a clear path," the Baton Rouge state district judge said.
Edwards' lawyer, Matthew Block, said the governor intends to appeal the decision.
The Democratic governor issued an executive order in April requiring language barring discrimination based on sexual orientation and gender identity to be included in most state contracts, except if the contractors are religious organizations.
Lawmakers have refused to add such protections into Louisiana law.
The Republican attorney general says Edwards' order exceeds the governor's legal authority and establishes a new protected class of people that doesn't exist in statute. Landry has blocked dozens of contracts to let state agencies and boards hire outside lawyers that contain the anti-discrimination language.
Source: Judge rules Louisiana Attorney General can block contracts with LGBT protections