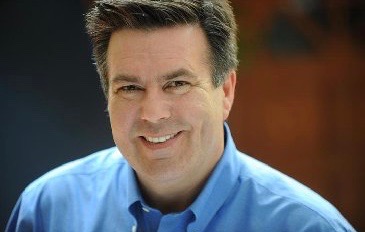 Kevin Meaney, a gay stand up comedian, died yesterday (21 October) He was 60. The cause of death is presently unknown.
A constant presence on the comedy scene for approximately 30 years, Meaney had his first HBO special in 1986. That led to a 1987 debut appearance on The Tonight Show with Johnny Carson. He was a special guest on Saturday Night Live and appeared on The Late Show with David Letterman, Regis, Oprah, and Late Night with Conan O'Brien.
According to CBS Los Angeles in 1990 Meaney was the title character in the television show Uncle Buck. Based on the movie, the program only lasted a season. However, he guest starred in various TV comedies, including 2 Broke Girls, Space Ghost Coast to Coast, 30 Rock and Dr. Katz, Professional Therapist.
Meaney also had a role in Tom Hank's 1988 movie Big.
In 2002, he appeared in the Broadway musical Hairspray. In a 2008 interview, on XM Radio's Stand Up Sit Down, the comic told the host he was gay.
'I got a job doing the gayest musical of all time, Hairspray, and everybody in the crew and everyone in the audience, they were all gay. So it just gave me courage,'  he said at the time, according to NewNowNext.
Full story:
Source: Out comic Kevin Meaney dies at 60