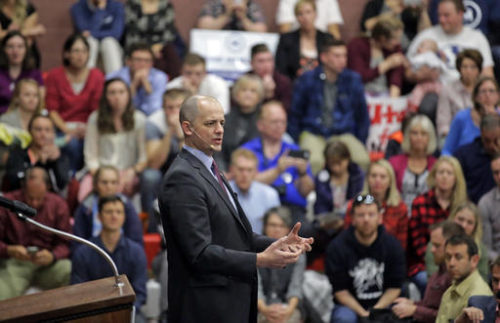 SALT LAKE CITY (AP) — An independent presidential candidate Evan McMullin criticized Republican Donald Trump on Monday over an automated call in Utah from a white nationalist supporter who calls McMullin a "closet homosexual" and "open-borders amnesty supporter."
McMullin responded with a series of strongly worded tweets — calling it another "desperate attack" spreading "baseless lies" by Trump and his "racist supporters as he continues to lose ground in Utah." He said the attack is consistent with Trump's "bigoted, deceitful campaign and vision for America. Utahns won't be fooled."
White nationalist William Johnson said the call will go out Monday night through Wednesday to 193,000 voters in Utah, where polls show McMullin is threatening Trump amid widespread backlash against the brash billionaire among the mostly Mormon electorate.
McMullin has been embraced by many Republican-leaning voters who are steeped in Utah's culture of courtesy and fed up with Trump's crudeness and antics. If McMullin prevailed, he would be the first non-GOP candidate to win the state since 1964.
In the 40-second call, Johnson introduces himself as a "farmer and white nationalist." He says McMullin is OK with legalizing gay marriage and with the fact that he "has two mommies," a reference to McMullin's mother marrying a woman after divorcing his father. He also questions McMullin's relationship status.
"Evan is 40 years old and is not married and doesn't even have a girlfriend," Johnson says. "I think he is a closet homosexual."
Source: Racist Trump supporter claims Utah independent candidate is gay in robocall