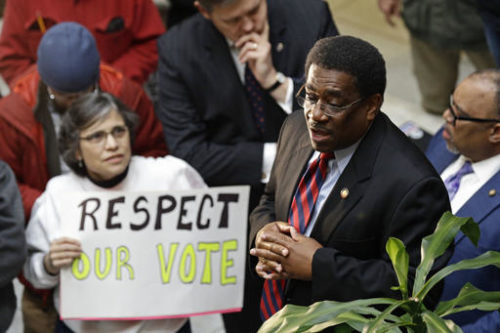 Rep. Garland Pierce, D-Scotland, addresses protestors during a special session at the North Carolina Legislature in Raleigh, N.C., Thursday, Dec. 15, 2016. Lawmakers finalized a $201 million hurricane and wildfire relief package Wednesday, sought by Gov. Pat McCrory in a special session he called. But they didn't go home as fellow Republicans then called their own session to weigh legislation, some of which could threaten the incoming Democratic governor. (AP Photo/Gerry Broome)
RALEIGH, N.C. (AP) — North Carolina's Republican-dominated legislature took extraordinary steps Thursday to reduce the powers of a Democratic governor-elect, defying raucous protests and threatened legal challenges days before he takes office.
GOP lawmakers ignored protesters disrupting House and Senate floor debate and advanced legislation on the second day of their surprise session, which Democrats angrily called a power grab to weaken Roy Cooper once he becomes governor Jan. 1. The state's attorney general, Cooper beat Republican Gov. Pat McCrory by barely 10,000 votes and vowed to fight back against GOP initiatives of recent years, particularly a law McCrory signed last March limiting LGBT rights.
"It appears the sole purpose is to undercut the power and authority of Gov.-elect Roy Cooper before he takes the oath of office," said Sen. Floyd McKissick, a Democrat representing Durham.
GOP lawmakers sought to scale back the team Cooper can bring into office, require their approval for top administrators at state agencies and erase the governor's ability to shape elections boards statewide, which under current law would become controlled by Democrats in 2017.
On a day when hundreds protested, at least 16 arrests were reported when Speaker Tim Moore ordered the gallery cleared. Those arrested were led away in plastic handcuffs, with supporters in the nearby rotunda chanting, "this is what democracy looks like."
Any notion Cooper would get a honeymoon period with the legislature was swiftly dashed this week. Lawmakers began the surprise session Wednesday within minutes of adjourning another special session called by McCrory to approve a disaster relief package.
The General Assembly has veto-proof GOP majorities in both House and Senate, meaning Cooper will be hamstrung to push any agenda without some Republican support.
Bills that cleared one chamber of the legislature by party lines by Thursday evening would reduce the number of political appointees that Cooper could make to shape his policies. Less than four years ago, lawmakers gave McCrory the power to hire hundreds of additional at-will workers.
Full story:
Source: NC Republicans make unprecedented power grab to limit new governor's authority