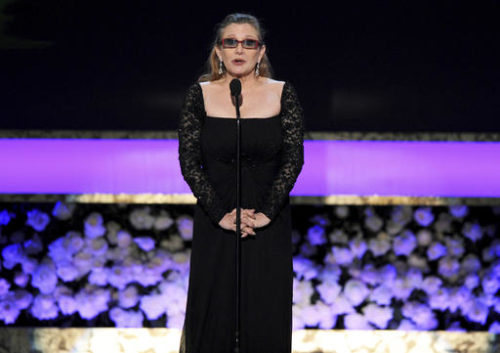 LOS ANGELES (AP) — Actress Carrie Fisher, who found enduring fame as Princess Leia in the original "Star Wars," has died. She was 60.
Fisher's daughter, Billie Lourd, released a statement through her spokesman saying Fisher died Tuesday morning in Los Angeles.
"It is with a very deep sadness that Billie Lourd confirms that her beloved mother Carrie Fisher passed away at 8:55 this morning," read the statement from publicist Simon Halls. "She was loved by the world and she will be missed profoundly."
Fisher had been hospitalized since Friday when she suffered a medical emergency on board a flight to Los Angeles.
She made her feature film debut opposite Warren Beatty in the 1975 hit "Shampoo," and also appeared in "Austin Powers," "The Blues Brothers," "Charlie's Angels," "Hannah and Her Sisters," "Scream 3″ and "When Harry Met Sally …"
But Fisher is best remembered as Princess Leia in the original "Star Wars" in 1977 with her now-iconic braided buns, who uttered the immortal phrase, "Help me Obi-Wan Kenobi, you're my only hope." Fisher played a part in which she was tough, feisty and powerful, even if at one point she was chained to Jabba the Hutt. (She reprised the role in Episode VII of the series, "Star Wars: The Force Awakens" in 2015, and her digitally rendered image appears in "Rogue One: A Star Wars Story.")
Full story:
Source: Actress and author Carrie Fisher dies at age 60