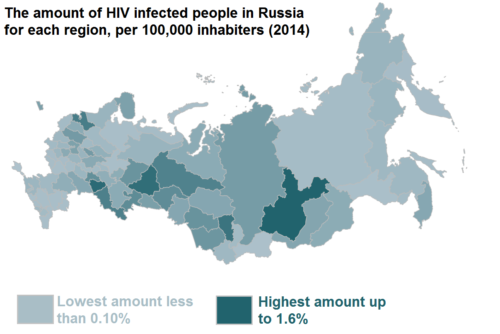 New statistics show that 64% of new HIV infections in Europe are coming from Russia, where 1 million people are currently living with the virus. The number is expected to double in the next decade.
In Russia, new infections are up 133% since 2006, according to the new report from the European Centre for Disease Control and the World Health Organization. The report states that the infection rate is largely driven by heterosexual sex.
"Despite significant efforts dedicated to the prevention and control of HIV in Europe, the number of new HIV diagnoses has not declined substantially over the last decade in the western part of the region and has more than doubled in the east," the report states.
There were 153,407 new diagnoses in Europe in 2015. 98,177 of those cases were in Russia. According to Wikipedia, Russia's population of 144 million is a fraction of Europe's population of 711 million.
Source: Most new HIV infections in Europe are in Russia