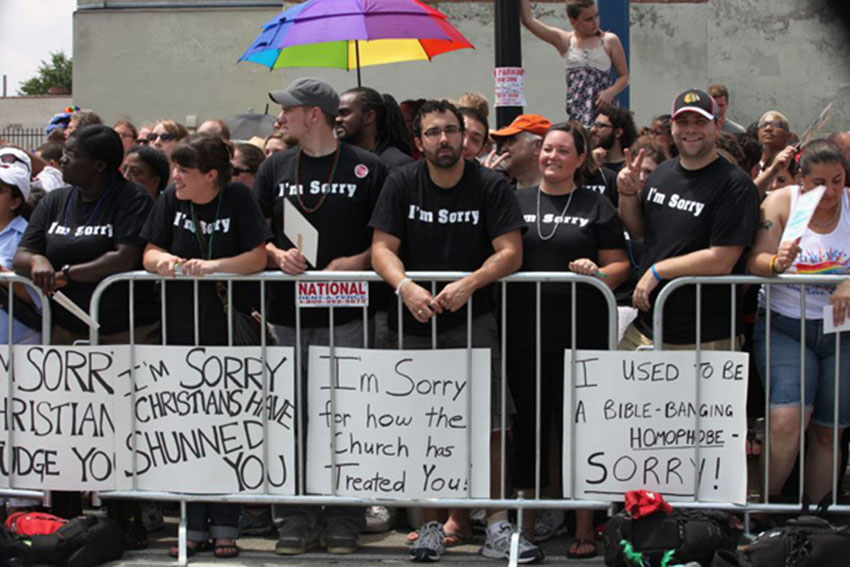 Church of England bishops are sorry for the 'tone' of a recent report on same-sex marriage.
The General Synod is committed to opposing same-sex marriage or blessing same-sex unions, and has apologized to those who were expecting 'more' from the report.
Right Reverend Pete Broadbent, the Bishop of Willesden, said he didn't 'want to make excuses' for the previous report.
'I do want to apologise to those members of Synod who found our report difficult, who didn't recognise themselves in it, who had expected more from us than we actually delivered, for the tone of the report,' he said.
'On behalf of the House, and without being trite or trivial, I'm sorry.'
The report suggested a 'Don't Ask, Don't Tell' policy, not punishing priests who are celibate and do not come out of the closet.
However, the Church of England has denied this is their intention.
Outside the Church of England headquarters, a group made of the Lesbian and Gay Christian Movement, Changing Attitude, Peter Tatchell Foundation, and Out + Proud African LGBTI all called for a rejection of the report.
Veteran human rights campaigner Peter Tatchell described it as a 'massive scale of church-sanctioned discrimination'.
However, Broadbent added that campaigners should not expect bishops to agree to same-sex marriage as fast as they would like.
'Our role is to hold the Church together and say we can only go as far as the whole church can agree. Campaigners are actually wanting us to go further, more hurriedly, than we necessarily can,' he said.
'We need to do more work on what we can agree around and not just say because we've had the shared conversations, we can give campaigners exactly what they want.'
Source: Church of England sorry for 'tone' of same-sex marriage report