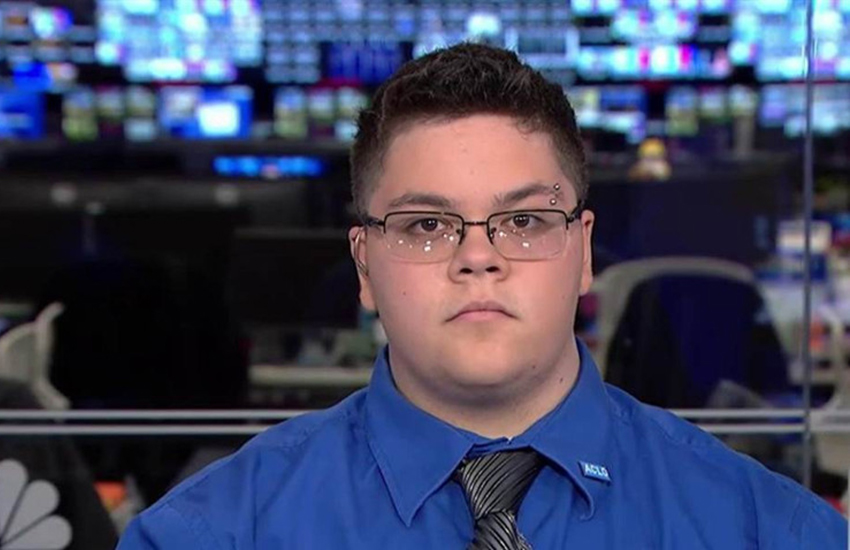 Apple, Spotify, Microsoft and 50 more companies have thrown their support behind trans teen Gavin Grimm.
Gavin is a trans boy suing his school district over violation of anti-discrimination protection Title IX.
The 4th US Circuit Court of Appeals ruled in Gavin's favor, but the school board appealed.
Now his case is headed for the Supreme Court.
If successful, it would reinstate the Obama administration's guidance that trans students should be allowed to use the bathroom matching their gender identity.
Gavin now gained the support of 53 of the United States' biggest companies representing over 1.3 million employees and $613 billion in revenue.
They signed an amicus curiae, or 'friend of the court' brief.
It is a way for people or groups who are not a party of the lawsuit, but who hold a strong interest in the matter, to petition the court.
The intent is to be granted permission to submit a brief to the court, in the hope to influence the justices' decision in the matter.
'Amici believe that transgender individuals deserve the same treatment and protections as all other members of our society,' the brief reads.
'The Policy undermines amici's policies promoting fairness and equality for their employees and customers, and thus directly threatens amici's business interests.'
The involved companies say diversity and inclusion are central to their businesses, and recruiting trans people and their allies was a 'critical component of their missions'.
More than just money
And they're not just worried about business interests or their employees' productivity, but also about Gavin's treatment during the case.
'In the case at bar, the only child reporting harm due to his school's restroom policy was G.G. [Gavin Grimm]. During the Board meeting when the Policy was first addressed, G.G. was "outed" by his community,' it reads.
'[He] was called a "freak," and was compared to someone who thinks he is a dog that urinates on fire hydrants.
'After the Policy was enforced, G.G. was unable to use a restroom in which he felt comfortable. When he tried to use the girls' restroom, (1) female students reacted negatively to the presence of an individual who they understood to be a boy, and (2) complications from his gender dysphoria were exacerbated.
'When G.G. tried to use the unisex restroom, he felt even more stigmatized and was sharply reminded that the school viewed him as "different."
'This incredibly uncomfortable scenario caused G.G. severe and persistent emotional, social, and physical harm.'
'The Policy makes going to school that much harder for
transgender youth and their families. Furthermore, this population already is particularly susceptible to harm,' the amici said.
'Even compared to lesbian, gay or bisexual students, transgender students face the most hostile school climates.
Importantly, in schools where students' rights to gender expression are respected, students experience less bullying and have better outcomes.
'In schools with anti LGBT bullying policies, for example, students have better relationships with staff and as a result feel safer in school.'
Gavin's case is set to be heard on 28 March.
Here is a list of all companies who signed the brief:
Affirm, Inc., Airbnb, Inc., Amazon.com, Inc., Apple, Asana, Inc., Box, Inc., Codecademy, Credo Mobile, Inc., Dropbox, Inc., eBay Inc., Etsy, Fastly, Inc., Flipboard, Inc., Gap Inc., General Assembly, GitHub, Inc., IBM, Intel Corporation, Kickstarter, PBC, Knotel, Inc., LinkedIn, Lyft, M Booth, MAC Cosmetics Inc., Mapbox, Inc., Marin Software Incorporated, Massachusetts Mutual Life Insurance, Microsoft Corporation, Mitchell Gold + Bob Williams, MongoDB Inc., NetApp, Inc., Next Fifteen Communications Corporation, Nextdoor, Pandora Media, Inc., PayPal Holdings, Inc., Postmates Inc., Replacements, Ltd., RetailMeNot, Inc., Salesforce, Shutterstock, Inc., Slack Technologies, Inc., Spotify, The OutCast Agency, The WhiteWave Foods Company, Tumblr, Inc., Twilio Inc., Twitter Inc., Udacity, Inc., Warby Parker, Williams-Sonoma, Inc., Yahoo! Inc., Yelp Inc., Zendesk, Inc.
Source: Apple, Spotify, Microsoft and more show support for trans teen Gavin Grimm