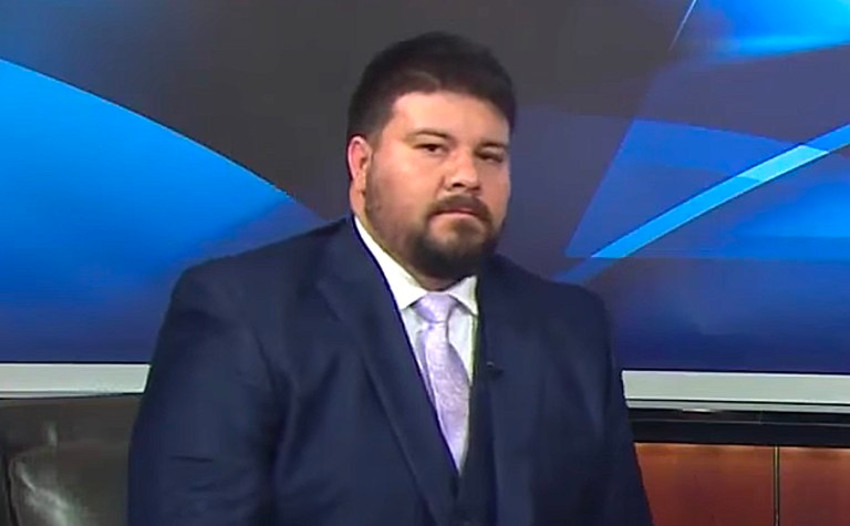 Oklahoma State Senator Ralph Shortey was charged today with engaging in child prostitution and turned himself over to police.
The Republican lawmaker was found in a motel room with a teenaged boy after allegedly offering him money for 'sexual stuff.'
Shortey, 35, was part of the leadership of Donald Trump's presidential campaign in the state. He is married to a woman and father of two children.
The Cleveland County District Attorney's office is charging Shortey with engaging in child prostitution, engaging in prostitution within 1,000 feet of a church, and transporting a minor for prostitution/lewdness.
Police were called to a Super 8 Motel earlier this month to check on the welfare of a 17 year old male.
They arrived and smelled marijuana coming from the room and found the lawmaker inside with the minor who had an open box of condoms in his backpack.
Among the evidence are communications on a Kindle tablet between Shortey and the teenager, according to The Oklahoman.
The teen said he needed money for spring break and asked if there was anything he could do for cash.
Shortey, using the screen name Jamie Tilley responded: 'I don't really have any legitimate things I need help right now. Would you be interested in 'sexual' stuff?'
The two met through a 'personal encounter ad' on Craigslist where authorities say the teen had "soliciting himself … for sexual conduct.'
Oklahoma Lt. Governor Todd Lamb has called on Shortey to resign.
'In light of the charges filed against him, Ralph Shortey should resign from his seat so the good people of southwest Oklahoma City can move forward with electing a new state senator,' Lamb said in a statement.
The Senate passed a resolution on Wednesday (15 March) to suspend Shortey and his name was quickly removed from his parking space and his office. The resolution punishes Shortey for 'disorderly behavior.'
Source: DA: Oklahoma lawmaker and Trump campaign leader offered male teen money for 'sexual stuff'