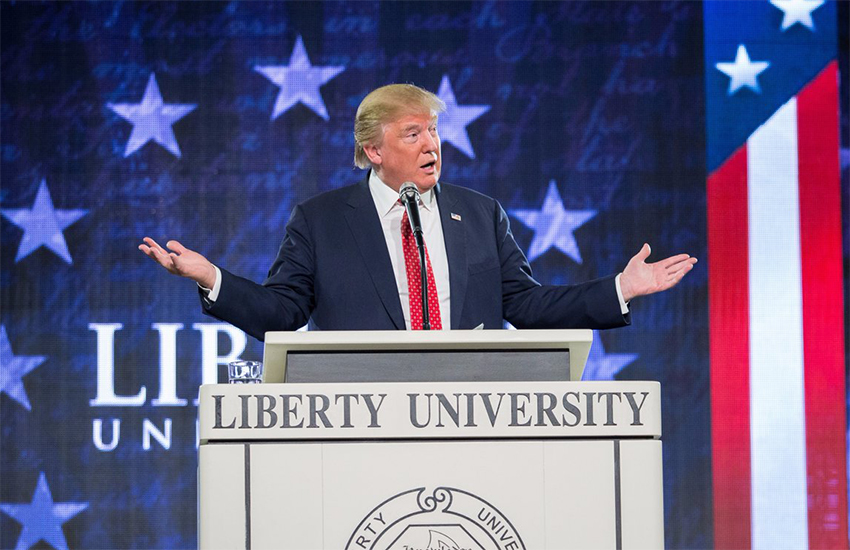 Liberty University in Lynchburg, Virginia has announced that President Donald Trump will be delivering the annual commencement speech to students in May.
Liberty University is a faith-based college founded by the late evangelical preacher Jerry Falwell in the 1971. It describes itself as 'the largest private Christian university in the world.'
In 2006, it controversially banned all LGBT students on the grounds of 'morality'. In 2008, it applied for exemption from federal anti-discrimination laws.
Nowadays, it makes all students sign a statement that they agree to abide by university rules, whereby: 'sexual relations outside of a Biblically ordained marriage between a natural-born man and natural-born woman are not permissible at Liberty University.'
'Our children truly are the future'
President Trump told Christian News Network: 'I look forward to speaking to this amazing group of students on such a momentous occasion.
'Our children truly are the future and I look forward to celebrating the success of this graduating class as well as sharing lessons as they embark on their next chapter full of hope, faith, optimism, and a passion for life.'
It's not the first time Trump has spoken at the University. He gave the convocation there in January 2016.
The head of the university is Jerry Falwell Jnr, who has been a vocal supporter of Trump and attended several inauguration-associated events in Washington DC.
'President Trump is doing a wonderful job'
Falwell said in a statement, 'This May, Liberty students will have the honor of hearing from a man who has succeeded in business and in politics, defying conventional wisdom to become the 45th President of the United States as a champion of the average American citizen, including many who felt forgotten and neglected by the establishment.'
We're excited to announce the keynote speaker for Liberty University's 44th Commencement is @realDonaldTrump https://t.co/2wQan2U2is pic.twitter.com/gEUBy3V1QY

— Liberty University (@LibertyU) March 22, 2017
Falwell went on to tell CBN that the President's supporters, 'including over 80 percent of the evangelical community, are thrilled with President Trump's actions so far.
'The fact that the mainstream media and the Establishment, on the left and the right, remain in attack mode with their often baseless and dishonest claims against Trump is a sign that President Trump is doing a wonderful job.'
Not all student at Liberty are thrilled by the news. Last October, 2,000 of the 15,000 students signed a statement criticizing Trump and saying they were 'tired of being associated with one of the worst presidential candidates in American history.'
The petition was organized by student group Liberty United Against Trump. Its founder, Dustin Wahl, told Time, 'A commencement speaker's supposed to be a capable, intelligent, respectable figure who students can look up to and aspire to become, and today we live in a world where the President of the United States doesn't even meet those qualifications.'
Source: President Trump looking forward to speaking at one of the most anti-gay colleges in US