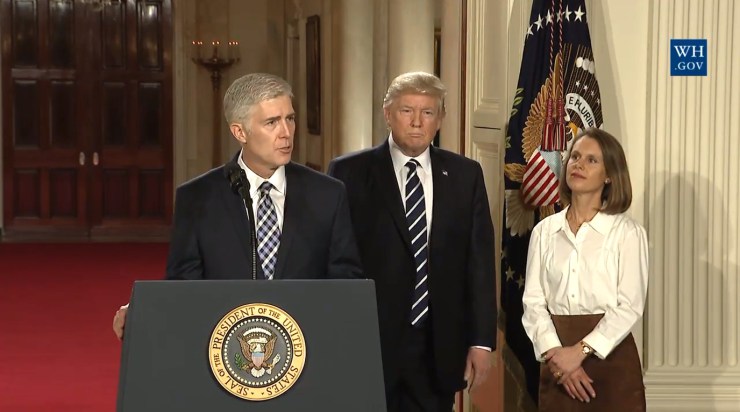 In a statement posted to its website, the National Organization for Marriage (NOM) congratulated Judge Neil Gorsuch after the Senate on Friday confirmed him as the nation's 113th Supreme Court Justice.
"We did it! Thanks to you and so many NOM members and conservative activists across the country, Senate Majority Leader Mitch McConnell was able to muster the votes to change Senate rules to allow the Gorsuch confirmation to move forward, and Justice Gorsuch won a bipartisan majority. He now will join the Supreme Court as a worthy successor to the late, great Antonin Scalia," wrote Brian Brown, the organization's president. Justice Scalia, a hardline conservative who served on the Court for more than thirty years––and whose originalist interpretations of the Constitution weighed its meaning as stable from the moment of enactment––passed away from natural causes last February.
Brown lauded Gorsuch's confirmation as a "huge boost" for the restoration of "true marriage." He further denounced the 2015 Supreme Court ruling in Obergefell v. Hodges, which extended marriage equality nationwide as "illegitimate" and "unconstitutional." Brown expressed glee at the prospect of being "only one vote short of reinstating marriage," referencing rumors that another justice who voted to "redefine" it would retire soon, leaving another vacancy for President Donald Trump to fill.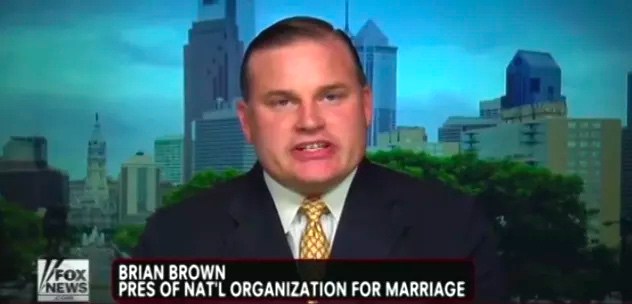 "I am so grateful to the nearly 10,000 NOM members who grabbed an oar and actively worked with us to support Justice Gorsuch's confirmation," Brown continued. "Please join me in praying for him, and for all the judges on the Supreme Court, that they be given wisdom and discernment to rule on cases based on the law and the constitution as it exists, not based on their own personal opinion of what the law and constitution should be."
Gorsuch, who until his confirmation was based on the Tenth Circuit Court of Appeals in Denver, Colorado, was confirmed despite harsh Democratic opposition. Though the final tally was 54-45 in favor of confirmation, the vote was only possible after the Senate tossed out rules meant to ensure bipartisan cooperation in vetting nominees to the Supreme Court. The change, which its proponents dubbed the "nuclear option," prohibited the use of a filibuster to block nominees from attaining confirmation. So long as Republicans control the Senate, the rule change could make it easier for President Trump to win confirmations for his nominees, allowing the court to sustain a conservative majority for years to come.
In an interview Friday, Mitch McConnell, the Senate majority leader, downplayed the long-term consequences of the rule change, which could spark heated battles should Democrats win back control of both chambers.
"Even though the rhetoric was kind of hot, frankly I think it was an act," he said. "I don't think the well has been poisoned in any permanent way."
In a statement of his own, Tony Perkins, a socially conservative member of the Family Research Council, which has been cited by Southern Poverty Law Center for making "false claims about the LGBT community based on discredited research and junk science," doubled down on his support for McConnell.
"Leader McConnell is to be commended for holding fast to historical precedent of not allowing an outgoing president to pack the Court with ideological jurists on his way out of the White House," Perkins said. "The Supreme Court vacancy after the death of Justice Scalia became a defining issue of the 2016 presidential election.  President Trump made history by telling voters who he would appoint to the Court by providing a list – the American people chose him and he in turn chose from the list, keeping his promise."
Perkins concluded his statement with congratulations for Gorsuch, stressing that "we anticipate will keep his promise to adhere to a textual and originalist view of the Constitution," Perkins concluded.
The post NOM Celebrates Gorsuch Confirmation to SCOTUS: Now 'One Vote Short of Restoring True Marriage' appeared first on Towleroad.
Source: NOM Celebrates Gorsuch Confirmation to SCOTUS: Now 'One Vote Short of Restoring True Marriage'