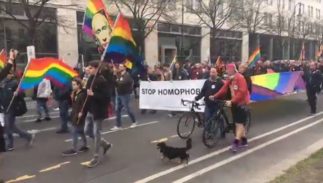 Police in Berlin, Germany thwarted an attempted bombing of the Russian Embassy during a pro-LGBTQ rights demonstration.

The rally took place on April 8, and was in response to the poor treatment of the LGBTQ community in Chechnya, as news has come out of prison camps where gay and bisexual men are held against their will, interrogated, and tortured.

A 24-year-old Moroccan man planned to mix in with the pro-LGBTQ rights demonstrators and set a bomb off in front of the Russian Embassy, GGG.at reports.
Read more from Source: Police stop bombing in Berlin at LGBTQ rights rally