The Black & Blue team is presenting its New Year's party, Bal des Boys from December 31 to January 2.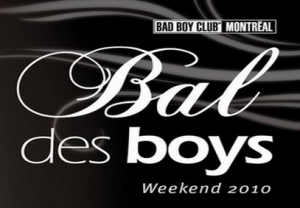 The first event is Thursday, December 31 2009 from 10 PM (all night), at Circus Afterhours, 917 Ste-Catherine street East, with the following DJs: Hakim Guelmi, Rene Benoit, Ian Key, Saeed Younon, King Louis, Etienne Ozborne, Stefane Lippe, Omar El Gamal, Wippengerg, Gareth Emery, Arnej and Carl Muren.
Day one, second event is at Nebula Day Club, Friday, January 1ST from 8AM – 5 PM, 1296 Amhers with DJs Ian Key and Jonny Marciano. Warmup by G-Feex.
The official Bal Des Boys T-Dance is Friday, January 1ts from 4PM – 11-PM at the Sky Pub, 1474 Ste-Catherine Street East with DJs Alain Jackinsky and Mario Leonard.
The final event is "It's Not Over!" on Saturday January 2 beginning at 2:AM and currently there is no end time with DJs David Laguer, K.Nox and King Louis.
For more information visit www.bbcm.org or call (514) 875-7026.
By Damen Rossini