At the mayor's request, a court in the Moldovan capital of Chisinau on April 28 ruled that leading gay group GenderDoc-M could not stage a May 2 rally in the city center in support of an anti-discrimination law.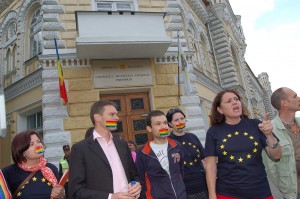 The court said the rally, the culmination of five days of LGBT pride events, must take place in a secluded park away from downtown, to protect public order and morality.
GenderDoc-M refused to abide by the ruling and canceled the demonstration.
Moldova has previously blocked public gay pride events and, in 2007, the nation's Supreme Court ruled that a ban of a 2006 pride event had been illegal and a violation of the European Convention on Human Rights and Fundamental Freedoms.
Local officials, however, simply ignored the determination.
Chisinau pride has been beset by drama each year since its inception in 2005.
Last year, Sören Juvas, president of Sweden's national gay organization, RFSL, was beaten up. He was stopped by Chisinau police as he left a pub and asked if he was in town for gay pride and if he was gay. When he answered both questions in the affirmative, he was taken to a police station, then released. As he left the station, Juvas was attacked by a group of men and suffered cuts and bruises.
"The men who attacked him were most likely police in civilian clothing or men who had been informed by the police that Sören Juvas was going to be outside the police station at that time," said RFSL spokesperson Malinda Flodman.
In 2008, Chisinau's pride march was canceled after the bus carrying the 60 marchers was halted by hundreds of snarling anti-gay protesters who tried to pry open the door, smash the windows and disable the engine. Police stood by and watched. For more than 45 minutes.
In the end, protest leaders boarded the bus and agreed to let it pass if the gay activists destroyed all their banners and flags, and popped all their rainbow balloons. They did so as the homophobes cheered.
"After ceasing of all materials, the two men ordered to unblock the bus and let it go," said GenderDoc-M's Boris Balanetkii. "The bus headed towards GenderDoc-M office, followed by a car with members of the crowd. Participants left the office in dispersed groups on alert of possible repeated attack by the crowd. Another crowd of approximately several hundred people surrounded GenderDoc-M office demanding that pride participants exit the office. … The office remained blocked for several hours."
All other remaining pride events also were canceled.
In 2007, despite the fresh Supreme Court ruling, city authorities banned all public pride activities, saying they threatened public order, offended Christians and promoted sexual propaganda.
Despite the ban, gay activists attempted to lay flowers at a monument to victims of repression. They were stopped by police, who falsely claimed that a permit was required for the action. Activists then deposited the flowers at the officers' feet.
Later that day, about 20 activists went to City Hall and stood in front of it for 15 minutes with their mouths taped shut with rainbow stickers. Police allowed the protest and protected the activists from 30 counter demonstrators from an extremist youth organization.
This year, pride events other than the canceled rally proceeded unimpeded. They included press conferences, workshops, a successful laying of flowers at the anti-repression monument, an awards ceremony, an art exhibition, a safer-sex-promotion party, a concert, a disco party, and the highly anticipated "International Transvestite Beauty Contest 'Miss Flawless Queen 2010.'"
By Rex Wockner