More than 150 people from the LGBT group Coming Out staged a "Rainbow Flashmob" in St. Petersburg, Russia, on May 16 in conjunction with the International Day Against Homophobia and Transphobia.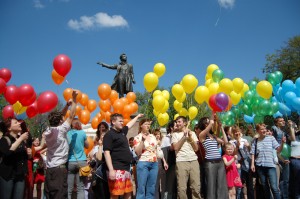 They distributed pamphlets and released multicolored balloons "symbolizing their dream of a world free of hate and homophobia," organizers said.
Far-right groups had threatened to attack the event, but the confrontation did not materialize.
"By coming to the event, people demonstrate that they will not be bullied," said Coming Out spokesman Igor Kochetkov. "Each time, the LGBT community of St. Petersburg becomes more and more self-confident in showing itself."
IDAHO flashmobs took place in dozens of other cities in Russia and elsewhere.
By Rex Wockner