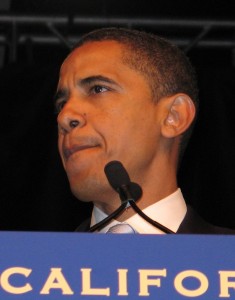 President Barack Obama issued a "National HIV/AIDS Strategy for the United States" on July 13.
"Our country is at a crossroads," Obama said. "Right now, we are experiencing a domestic epidemic that demands a renewed commitment, increased public attention and leadership."
The document states that one American becomes infected with HIV every 9 1/2 minutes and that 600,000 Americans have died from AIDS.
But relatively few people seem to be alarmed by HIV nowadays, the strategy says.
"The public's sense of urgency associated with combating the epidemic appears to be declining," it reports. "In 1995, 44 percent of the general public indicated that HIV/AIDS was the most urgent health problem facing the nation, compared to only 6 percent in March 2009."
One year after the 44 percent figure was obtained, protease-inhibitor drugs became available that, when combined with other antiretroviral drugs, have dramatically reduced AIDS-related deaths. The vast majority of HIV-positive people with access to treatment now live with the virus as a more or less chronic manageable condition, though drug side effects and societal stigma can still be serious problems.
The report says that 56,000 Americans catch HIV every year, and that that is expensive for the nation. It estimates that 21 percent of HIV-positive people don't know they are positive.
"(M)ore Americans are living with HIV than ever before," the document states. "Unless we take bold actions, we face a new era of rising infections, greater challenges in serving people living with HIV, and higher health care costs."
The strategy's main goals are to reduce the number of infections, increase access to treatment, and reduce "HIV-related health disparities."
Gay white men make up the largest group of people with HIV, followed by gay black men, straight black women, gay Latino men, straight black men, straight white women, straight Latino women, black male drug users and black female drug users.
However, the rankings change dramatically when each group is looked at relative to its size in the American population. Those numbers show that black female drug users are most at risk of catching HIV, followed by black male drug users and black men who have sex with men. The report estimates that black gay men are five times more likely to end up positive than white gay men.
"According to the Centers for Disease Control and Prevention, gay men comprise approximately 2 percent of the U.S. population, but 53 percent of new infections," the document states. "Among gay men, white gay men constitute the greatest number of new infections, but black and Latino gay men are at disproportionate risk for infection."
Near the end, the document calls on the federal government to get more organized around AIDS.
"What has been missing and what is needed at this time is an enhanced focus on coordinating our efforts across federal agencies, across all levels of government, with external partners, and throughout the health care system," it says.
But it adds that there will never be enough money to go around.
"Resources will always be tight, and we will have to make tough choices about the most effective use of funds," the report states. "Therefore, all resource allocation decisions for programs should be grounded in the latest epidemiological data about who is being most affected and other data that tell us which are the most urgent unmet needs to be addressed."
National Gay and Lesbian Task Force Executive Director Rea Carey said Obama's HIV/AIDS plan "is long overdue, and implementation can't happen fast enough."
"This plan offers much-needed relief by focusing on high-risk communities, directing money to states with the highest need based on reported cases of HIV/AIDS, and by recognizing the unique needs of affected populations," she said. "However, the plan doesn't yet go far enough in ending new infections and helping those already coping with the disease to manage it. The government must make available the necessary resources and life-saving medicines for those in need. Adequate attention to and funding for implementation as well as aggressive timetables are essential to the success of this plan. This ongoing national tragedy requires an immediate, potent and cohesive federal response that is appropriately funded."
The Human Rights Campaign "praised" the strategy "as a positive step forward in the fight against HIV and AIDS nationwide, but called on the administration and Congress to provide the leadership and resources necessary to implement this important plan."
HRC President Joe Solmonese said: "The strategy importantly acknowledges the continued impact HIV/AIDS has on LGBT people, as well as the failure to put adequate attention and resources toward addressing the epidemic in our community. But the goals and timetables laid out in this document cannot and will not be achieved without strong leadership and robust resources. All of us — including the administration and Congress, state governments, service providers and advocates — must commit to ensuring that the bold vision of this plan is fulfilled."
Lambda Legal called the plan a "long overdue first step."
Executive Director Kevin Cathcart said: "The National HIV/AIDS Strategy recognizes the stigma associated with HIV and the persistent discrimination that still occurs, and that a need remains to strengthen enforcement of civil rights laws protecting people with HIV. We commend the administration for focusing attention on the need to address the discrimination faced by people living with HIV in the U.S."
"The epidemic is having a particularly serious impact on gay and bisexual men, as well as African-Americans," he added. "We are heartened by the White House's intent to direct more attention and resources to the epidemic and its hardest-hit communities."
By Rex Wockner