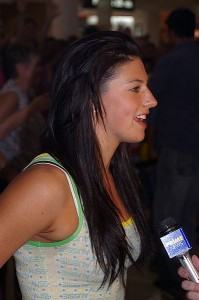 Jaguar has dumped Australian Olympic swimmer Stephanie Rice after she used
the word "faggots" in a tweet. Rice won three gold medals at the 2008
Beijing Olympics and holds the world record in the 400-meter women's
individual medley.
The car company ended its sponsorship deal with Rice, 22, after she
tweeted "Suck on that faggots" in response to Australia's defeating South
Africa in a Sept. 4 rugby match. Rice later deleted the tweet and
apologized for causing "offense."
The company also reportedly took away the car it was letting Rice drive,
which was valued at over $100,000.
Openly gay Australian rugby icon Ian Roberts reportedly called Rice an
"idiot" and a "fool" for transmitting the tweet.
Openly gay Australian Olympic diver Matthew Mitcham, also a gold medalist,
said he is friends with Rice and that she is "not homophobic" but did use
"an extremely poor choice of words."
Mitcham, 22, also said that gays of his generation "don't find that term
very offensive."
By Rex Wockner