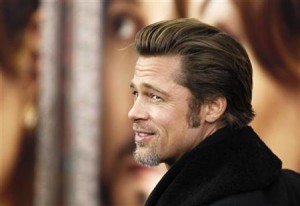 Bigger stars on the carpet, a stronger film industry and the much anticipated comeback of U.S. director Terrence Malick are set to give this year's Cannes Film Festival a boost after a subdued 2010.
Among the most hotly anticipated titles in competition at Cannes this year is "The Tree of Life," a period drama starring Brad Pitt and Sean Penn and directed by Terrence Malick, who makes a comeback at Cannes after failing to finish his movie on time last year.
Danish filmmaker Lars von Trier, known for stark and emotional movies like "Breaking the Waves" and "Dancer in the Dark," is also back in the running with "Melancholia," a science fiction drama starring Kirsten Dunst and Kiefer Sutherland.
Pedro Almodovar, the Spanish director known for his colorful images, takes a new tack with "The Skin That I Inhabit," a revenge story featuring Antonio Banderas about a surgeon on the hunt for the men who killed his daughter.
Unveiling the list of nominated movies for the festival, an oasis for independent filmmakers, organizer Thierry Fremaux told journalists that the movie business was almost fully recovered from a year marked by financing woes for art-house productions.
Last year's competition on the French Riviera lacked buzz with fewer Hollywood A-List stars than normal and a backdrop of economic gloom — as well as a volcanic ash cloud that created chaos for air travel across Europe just before the gathering.
"The official selection this year bears witness to the good health of the market for cinema," Fremaux told a news conference ahead of the May 11 to 22 festival.
"The Festival has been through some tough years but we can now see that movie production is making a comeback."
Taking care to watch every film submitted for a place in the competition, volunteer screeners whittled down 1,715 films — some 60 more than last year — to a list of 49 full-length features, 19 of which will be in the main competition.
WOODY ALLEN MEETS NICOLAS SARKOZY
Other titles in competition for the Palme d'Or, or Golden Palm, top prize include "Ishimei," a 3-D samurai movie directed by Takashi Miike, Nanni Moretti's "Habemus Papam," a film about the relationship between a pope and his therapist, and Lynne Ramsay's "We Need to Talk About Kevin" about a boy who goes on a shooting spree at school.
As always in Cannes, much attention is given to movies which are not nominated for any award but shown during the festival to drum up some buzz ahead of their box office release.
That is the case with Woody Allen's "Midnight in Paris," a romantic comedy shot on location featuring Owen Wilson, Kathy Bates and a cameo appearance from France's first lady Carla Bruni, which will open the festival on May 11.
Another movie sure to catch the attention of the French public is "L'Exercise de l'Etat," which tells the story of President Nicolas Sarkozy trying to find his wife the day after he won the 2007 presidential election.
In a sign the sometimes arcane festival is warming to technology, titles were submitted over the internet for the first time, many of them shot on cheap digital cameras, with an increase in movies using 3-D imagery, Fremaux said.
The festival's jury, presided by U.S. actor Robert De Niro, has already awarded an honorary Palme d'Or prize to Bernardo Bertolucci, the Italian director of classic films such as "Last Tango in Paris" and "The Last Emperor."
"The tone is somewhat lighter this year," said Fremaux, to which festival director Gilles Jacob replied: "Within reason."
PARIS (Reuters) – By Nick Vinocur
(Editing by Paul Casciato)