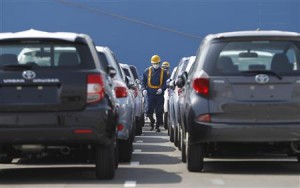 Toyota Motor Co may slip to No. 3 in the automaker production rankings behind General Motors and Volkswagen due to Japan's earthquake and nuclear crisis, which slashed local output by almost two-thirds in March alone.
A shortage of parts in the wake of the March 11 earthquake and tsunami has savaged Japan's auto sector supply chain, while damage to a major nuclear plant has disrupted power supplies.
Investors expecting overseas rivals to benefit from a prolonged slump in Japanese output pushed up shares in South Korea's Hyundai Motors and associate Kia Motors to record highs on Monday.
"Hyundai and Kia will be the biggest beneficiaries of the struggling Japanese car industry," said Suh Sung-moon, an analyst at Korea Investment & Securities in Seoul.
"Hyundai will focus on the high-end market and Kia has the capacity to boost volume shipments. It's a great mixture to catch up with Japanese rivals."
Honda Motor Co, Japan's No. 3 automaker, said on Monday it would take until the end of the year before production returned to normal, echoing comments from Toyota on Friday.
Honda, which reported domestic production shrank 62.9 percent in March, said output would be at 50 percent of its original plans until the end of June.
Domestic production at Toyota, the world's largest automaker, plummeted 62.7 percent in March, while Japan's No. 2 Nissan Motor Co said its corresponding figure fell 52.4 percent.
Toyota is almost certain to lose the top producer ranking it has held since 2008 to General Motors this year and could fall behind No. 3 Volkswagen, said Koji Endo, managing director of Advanced Research Japan in Tokyo.
Toyota, which sold 8.42 million vehicles last year versus GM's 8.39 million, was on track to post sales of around 6.5 million units this year, Endo said. Other analysts, lacking clear guidance from Toyota, expect sales of roughly 6.3 million to 7 million units.
"Most likely GM will produce 8 million-plus and Volkswagen will produce around 7 million, so most likely Toyota will be third, GM will be first," Endo said.
Volkswagen has a stated goal of taking Toyota's No.1 spot and expects its 2011 sales to top the record 7.14 million vehicles it sold last year.
Toyota, criticized by some analysts and investors for its aggressive expansion in the early 2000s, played down the prospect of losing its top ranking.
"When Toyota became No. 1 there were no champagne corks going off here," said Toyota spokesman Paul Nolasco. The March sales were the worst since records began in 1988, he added.
Standard & Poor's later cut its outlook on six major Japanese automakers and suppliers to negative from stable.
"In our opinion, extended production cuts may erode Japanese automakers' market shares and competitive positions in the longer term," S&P said.
Johnson Controls Inc, one of the world's largest auto suppliers, on Monday projected a drop in third-quarter revenue of $500 million due to the falloff on Japanese auto production. The company expects to recoup those losses in the first half of its fiscal year 2012, which begins in October.
NO CLARITY
Japanese automakers have not forecast what impact the production cuts will have on earnings, but analysts have been slashing forecasts since the disaster.
For Toyota, 11 analysts who revised their forecasts after the earthquake calculated an average operating profit of 281.9 billion yen for the year to March 2012.
That is down 65 percent from the consensus of 804 billion yen from 21 analysts before the quake, according to Thomson Reuters I/B/E/S. Toyota will announce its results on May 11, but it is not certain if it will provide its own forecast.
"In overseas markets, consumers have choices and (non-Japanese makers) probably will take some share, but I think it is an open question if those will be sustainable or temporary share changes — my guess is that they will tend to be temporary," said Christopher Richter, an auto analyst at CLSA Asia-Pacific Markets in Tokyo.
Shares in major Japanese automakers were weaker on Monday, with Toyota ending down 0.6 percent, Honda down 1.3 percent and Nissan 1.8 percent lower. The main Nikkei index closed off 0.1 percent.
Tokyo's transport equipment sub-index has bounced about 14 percent from its post-quake low, but is still more than 6 percent below where it was before the disaster struck.
In contrast, Hyundai has surged 30 percent over the same period on expectations it will benefit from the woes of its Japanese rivals. Hyundai shares jumped 5.6 percent to a record high on Monday, while Kia shares also hit a record, up 3.2 percent.
"These are good times for South Korean car makers. They will gain market share, raise utilization rates," said Park Jong-min, a fund manager at ING Investment Management in Seoul. "They will also reduce incentives, which will help cut costs."
Hyundai and Kia were No. 5 by combined global sales last year.
The disaster has been a major setback for the world's third-largest economy, with exports falling faster than forecast in March and industrial output data due on Thursday expected to show a record decline. Some economists expect industrial production to fall as much as a quarter, month on month, in March.
The fall in Japanese vehicle output has fed through to major steel suppliers, weighing on profits and prospects for companies, including JFE Holdings.
Production has also been disrupted outside Japan, with factories in Europe, North America and the rest of Asia scaling back due to parts shortages.
"I think Nissan and Honda are more or less in the same situation in terms of exposure to the disaster. As such, GM, Ford, and Hyundai would be the biggest beneficiaries in North America on the premise they can find easy replacement for parts previously supplied by the Japanese," said Yale Zhang, managing director of industry consultant Automotive Foresight (Shanghai) Co.
Uncertainty on the earnings outlook is likely to linger well into the financial year, which started on April 1.
Many companies are expected to refrain from giving 2012 earnings guidance during the current fourth quarter reporting season and those that do are expected to paint a bleak picture.
TOKYO (Reuters) – By James Topham
(Additional reporting by Hyunjoo Jin in SEOUL, Fang Yan in BEIJING and Deepa Seetharaman in DETROIT; Writing by Lincoln Feast; Editing by Dean Yates and Maureen Bavdek)