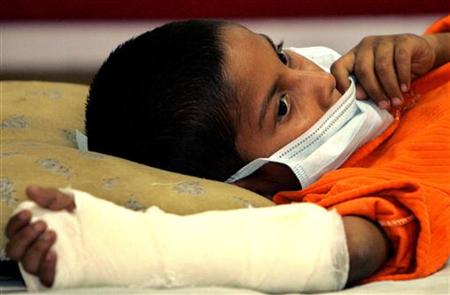 A cheap new meningitis vaccine designed to treat a type of the disease common in
Africa
could significantly reduce or even halt future epidemics in
Africa
's so-called "meningitis belt," scientists said.International researchers said the vaccine, called MenAfriVac and made by the Indian generic drugmaker
Serum Institute
, was far more effective than older so-called meningococcal polysaccaride vaccines, including Mencevax from GlaxoSmithKline, in trials in three African countries.
In two studies in the New England Journal of Medicine, in which MenAfriVac's potency and effectiveness was compared with a standard vaccine often used during meningitis outbreaks in the region, scientists said the new shot was "dramatically better."
The first study involved 601 children under two years old in Mali and Gambia, and the second involved 900 adults in Mali, Gambia, and Senegal. Researchers measured immunogenicity 4 weeks after the first dose and found that in the first study more than 96 percent of those who got MenAfriVac had high levels of antibodies in their blood, compared with around 64 percent of those who got GSK's Mencevax.
MenAfriVac was developed with funding from the Bill and Melinda Gates Foundation specifically for use against meningitis A, a type which causes regular epidemics in Africa, and costs just 50 U.S. cents per dose.
GSK's Mencevax and another vaccine called Menomune made by Sanofi Aventis' unit Sanofi Pasteur, offer protection against four meningitis strains — A, C, Y and W-135 — and are therefore more expensive and less targeted to Africa's needs.
Marie-Pierre Preziosi of the World Health Organisation's (WHO's) immunization, vaccines and biologicals department, said that taking into account all the effectiveness measures in both studies, including potency and sustainability of protection, MenAfriVac was " about 20 times more effective" than currently-used polysaccaride vaccines.
She said its use could significantly reduce or stop epidemics in the belt stretching from Senegal in the west to Ethiopia in the east, which currently has the highest meningitis A rates in the world.
"The potential is there, there's no doubt about that," she said in a telephone interview. "The studies were very conclusive. The new vaccine was dramatically better than the currently used vaccine and this was shown in all age groups, including adults."
Bacterial meningitis, called meningococcal meningitis, is a serious infection of the thin lining surrounding the brain and spinal cord. It can cause severe brain damage and is fatal in 50 percent of cases if untreated.
Even with antibiotic treatment, around 10 percent of patients die and up to 20 percent are left with brain damage, deafness, epilepsy, or necrosis leading to limb amputation.
According to the non-profit Meningitis Vaccine Project (MVP), which helped develop the MenAfriVac vaccine, the seasonal outbreak of meningitis across sub-Saharan Africa in 2009 infected at least 88,000 people and killed more than 5,000.
WHO data released earlier this week showed Burkina Faso, Mali and Niger, the first three countries to receive MenAfriVac after it was launched last year, had their lowest recorded numbers of meningitis A cases in an epidemic season this year.
The figures showed just four confirmed meningitis A cases in Burkina Faso, the first country to introduce the vaccine nationwide. No confirmed cases were reported in Mali, while four cases were reported in Niger, all in unvaccinated people.
LONDON (Reuters) -  By Kate Kelland(Editing by Jan Harvey and Sophie Walker)