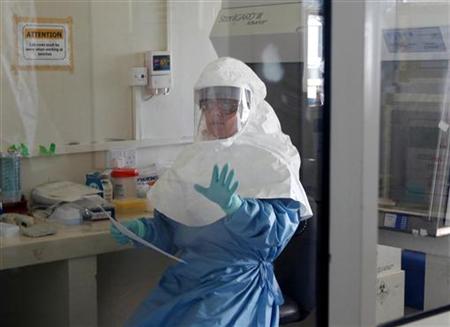 Uganda has successfully prevented the rare and deadly Ebola virus from spreading, nearly two months after a 12 year-old girl bled to death after contracting the disease, officials said on Friday."
Uganda
is free of Ebola," Doctor
Anthony Mbonya
, chairman of a national task force set up after the girl's death, told Reuters. "The situation is perfect."
Uganda's declaration is in line with World Health Organization guidelines that stipulate countries must wait 41 days after the discharge or death of the last Ebola patient before declaring an outbreak over.
There is no treatment and no vaccine for Ebola, which causes internal and external bleeding, vomiting, diarrhea and shock. Depending on the strain, it kills from 50 to 90 percent of its victims.
"We managed to contain the case because of our previous experience with Ebola," Mbonye said. "The girl was buried very quickly and we kept the body away from the local population."
Uganda was last hit by Ebola in 2007, when it killed at least 37 people, caused public panic and prompted President Yoweri Museveni to urge Ugandans to stop shaking hands.
Mbonye said the task force had so far failed to discover how or where the girl had contracted Ebola but that investigations were ongoing.
Ebola has caused dozens of deadly outbreaks across Africa and threatens endangered gorilla populations as well as people.
KAMPALA (Reuters) – By Barry Malone(Editing by Richard Lough and Peter Graff)