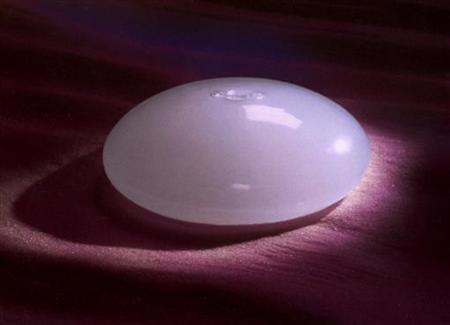 Women who get silicone breast implants are likely to need additional surgery within eight to 10 years to address complications such as rupture of the device, U.S. health regulators said on Wednesday.The
Food and Drug Administration
will work to revise safety labels for silicone breast implants after reviewing data from several long-term studies, which also showed that implants had a small link to a rare form of cancer.
"The key point is that breast implants are not lifetime devices," said Jeff Shuren, director of the FDA's Center for Devices and Radiological Health.
"The longer you have the implant, the more likely you are to have complications."
There were almost 400,000 breast enlargement or reconstruction procedures in the United States in 2010, according to the American Society of Plastic Surgeons. That includes silicone and saline implants.
Post-approval studies showed up to 70 percent of all women who received reconstruction surgery, and up to 40 percent of those getting an enlargement procedure using silicone, needed another surgery within eight to 10 years.
The FDA first approved silicone gel-filled breast implants in 2006 for Allergan's Natrelle and Mentor Worldwide's MemoryGel. Since then, the manufacturers and the agency have been conducting studies to review post-operation safety.
The FDA said the most common complications were hardening of the breast area around the implant, additional surgeries and rupture or deflation of the implant.
Other local complications include implant wrinkling, asymmetry, scarring, pain, and infection at the incision site.
The studies also found a small correlation between implants and anaplastic large-cell lymphoma (ALCL), a form of cancer that affects about 3,000 Americans a year.
From 1997 to 2010, there were about 60 cases of ALCL reported for women worldwide out of about 5 million to 10 million women who had breast implants, Shuren said.
"If there's a true association between that cancer and implants, it's very, very rare," he said.
However, the FDA said most long-term studies confirmed initial results, and that most risks of implants were well known.
"Most women reported high levels of satisfaction with their body image and the shape, feel and size of their implants," the FDA report said, adding that women should monitor their breasts for the rest of their lives to make sure there are no problems.
The FDA is releasing a report on the safety of silicone implants, as well as an updated website, brochure and handout for patients considering implants, and a video about ALCL.
WASHINGTON (Reuters) – By Anna Yukhananov(Reporting by Anna Yukhananov; editing by Dave Zimmerman)