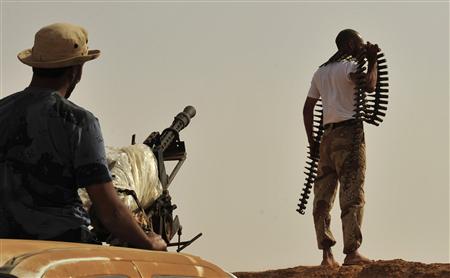 France
provided weapons, munitions and food to Libyan rebels in the Western Mountains in early June to prevent troops loyal to Muammar Gaddafi from overrunning the region, a military spokesman said on Wednesday.Citing unidentified sources,
Le Figaro
newspaper said on Wednesday
France
had parachuted "large amounts" of weapons, including rocket launchers, assault rifles, machine guns and anti-tank missiles into the Jebel Nafusa region.
The move, it said, was an effort to give impetus to a rebel push toward Gaddafi's stronghold in the Libyan capital Tripoli.
"There were humanitarian drops because the humanitarian situation was worsening and at one point it seemed the security situation was threatening civilians who could not defend themselves," armed forces spokesman Thierry Burkhard told Reuters.
"France therefore also sent equipment allowing them to defend themselves, comprising light weapons and munitions," he said, adding that the drop in early June had included medicine and food.
The rebellion against Gaddafi's 41-year rule has made only slow progress since NATO-led countries began bombing three months ago, but rebels say they are finally advancing closer to the Libyan capital.
Rebels based in the Western Mountains region southwest of the capital made their biggest breakthrough in weeks on Sunday to reach the town of Bir al-Ghanam, where they are now fighting pro-Gaddafi forces for control.
The Figaro said France's decision to send arms had been taken without consulting its NATO partners and it quoted a high-level source saying it was "because there was no other way to proceed."
Officials at the Foreign Ministry official said it did not handle operational affairs and could not comment on the report.
Government spokesman Francois Baroin declined to comment.
A French military source said that no planes could fly in the area without NATO knowing about it.
Le Figaro said it had seen a confidential map stamped by French intelligence services showing various areas in the mountains including Yafran and Nalut under the control of rebels where weapons could be sent.
Speaking after a meeting between French President Nicolas Sarkozy and rebel chief Mahmoud Jibril, National Transitional Council Information Minister Mahmoud Shammam told reporters on Tuesday it had not asked for any further military assistance.
"We are getting our (military) means from other places," Shammam said, without elaborating.
Until now, the rebels have been receiving weapons from Qatar in particular through its bastion in Benghazi to the east of the country.
Sarkozy has had a close relationship with the rebels since French planes struck first in Libya as part of a U.N.-backed mandate to protect civilians.
While military intervention on the ground has been ruled out, Sarkozy previously promised to step up air strikes.
Earlier in June, French and British helicopters joined operations to give the NATO-led mission more precision targeting and help speed up the military conclusion.

PARIS (Reuters) – By Elizabeth Pineau and John Irish(Reporting by John Irish, additional reporting by Nicholas Vinocur; editing by Mark Heinrich)