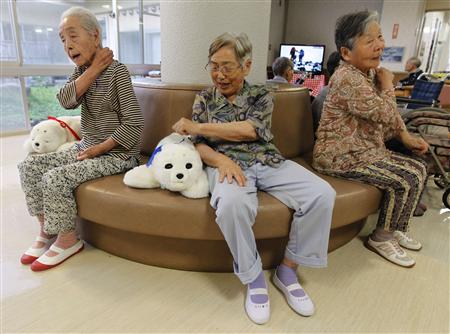 For some elderly survivors of
Japan
's March earthquake and tsunami, comfort comes in the form of a small white robotic seal named Paro.Sitting only 27 km (17 miles) south of the stricken
Fukushima Daiichi plant
on a hill above an area ravaged by the tsunami, the
Suisyoen
retirement home is located in the middle of
Japan
's triple crises.
While the retirement home structure was spared major damage by the earthquake and subsequent tsunami, fears of radiation contamination from the nearby nuclear plant led officials to evacuate Suisyoen for two months until Mid-may.
A week after they returned, the robotics division of Japanese company Daiwa House offered to lend Suisyoen two of its seal robots coated with anti-bacterial fur, now nicknamed Love and Peace for two years.
The robots normally cost around 12,000 yen ($155) a month to lease.
The furry friends are now treated as pets by the residents, with many of them still dealing with memories of the quake. Some residents hold onto the seals for longer than others.
"If I hold onto this, it doesn't matter if there's a typhoon outside, I still feel safe," said 85-year-old Satsuko Yatsuzaka after she had been hugging one of the seals for about half an hour.
While some retirement homes have used animals to help with therapy for residents, Suisyoen's General Manager Taku Katoono said that using this sort of therapeutic robot lowered many of the barriers that would normally be in the way of using live animals.
"First of all it's necessary to have a live animal to raise for animal therapy. That however is rather difficult in certain situations and so in this case we use a doll, albeit a robotic one, as an alternative method to help them recover," Katoono said.
As the robots can only hold a charge for an hour and a half, they are normally used in the morning and then charged over lunch to be used again in the afternoon.
The robots even take in the daily exercises, with residents help the seals clap and sing along.
Ayako Shizo, who lost her house in the tsunami and is now living at Suisyoen said she liked playing with the seal, despite not previously having pets.
"It's just as cute a little living creature and so everyone is looking after it every day. It does sometimes runs out of batteries and stop. But when it's got its eyes open everyone stands around talking to it, asking it how it's doing and such," Shizo said.
Local media have reported that more than half of the victims of the tsunami were over 65 years old, with survivors still attempting to heal their mental scars.
Suisyoen said that currently they don't plan on getting any more Paros, but if one resident becomes especially attached to one of them they may increase the number of furry companions for the residents.
TOKYO (Reuters) – By Chris Meyers(Edited by Paul Casciato)