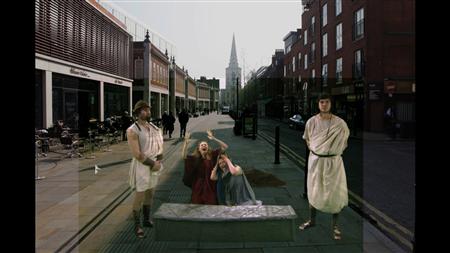 Finding
London
's Roman ruins amid the tangled network of streets and lanes that make up the ancient part of a contemporary city is a challenge for even the most experienced urban explorer.Now, a free mobile application for the
iPhone
,
iPad
and Android created by the
Museum of London
, helps history buffs find sites built between 43 A.D. and the 5th century, during which
Rome
abandoned the walled city as its empire collapsed.
The app also has up to 200 images of artifacts from the museum's collection, which can be shared on Twitter or Facebook.
"Streetmuseum Londinium" works by overlaying a Roman-era map of the old City of London and Southwark — the borough on the south side of the Thames River — onto a present-day Google map allowing navigation using a satellite navigation tool, also known as a Global Positioning System (GPS).
Users can find the underground location of such sites as the Temple of Mithras, amphitheatre, forum and basilica, central to Roman civic life, and long since buried under a 20-foot (6.09 meter) build up of ground surface and modern structures.
Rubbing a spot on the map will reveal artifacts discovered at the site during archeological excavations.
They can also navigate a route to see the above-ground remains of Cripplegate Fort, traverse the route of the old wall and Borough High Street in Southwark.
"The app is going to tell people about so many different aspects of Roman life, from what sort of underpants Romans wore, to how they were buried, to how they lit their homes, to what sort of food they ate," Roy Stephenson, head of archaeological collections at the Museum of London.
The app, released ahead of a fundraising drive to renovate the Roman gallery in the museum, also includes audio and video — financed by the History television channel — which recreate imagined scenarios for users to watch during their walk.
Parallels can be drawn between Londinium and modern-day London, according to Stephenson, who said he thinks life would have been quite frenetic in the Roman era as people focused on trade, production and building the city itself.
"Still, London is the melting pot," he said. This is where people come to make money, with the intention of staying for a little bit and then end up bringing up their children here and staying for all time."
Streetmuseum Londinium can be downloaded at http://www.museumoflondon.org.uk/Explore-online/Apps/

LONDINIUM (Reuters) – By Julie Mollins(Edited by Paul Casciato)