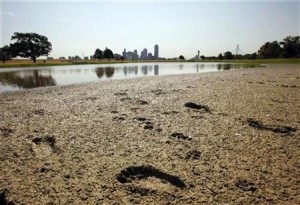 The historic
Texas
drought that has parched most of the state throughout the summer has caused $5.2 billion in losses to agriculture, making it the most destructive drought in the state's history, agriculture officials said on Wednesday.They called the damage estimate "conservative," but it still surpassed by more than $1 billion the losses reported in a 2006 drought that had set state records at $4.1 billion.
"This drought will have a lasting impact on Texas agriculture," said Travis Miller, an agronomist with Texas A&M University's Texas AgriLife Extension Service, which released the numbers. "The most remarkable thing is the extent and the severity of the drought combined."
The losses include more than $2 billion in livestock, $1.8 billion to cotton, and more than $1 billion to other crops, including hay, corn, wheat, and sorghum, Miller said.
He said more than 90 percent of the state is listed by the U.S. Drought Monitor as being in either "extreme" or "exceptional" drought, the two worst categories as measured by the monitor.
What is not counted in the figures released Wednesday is the collective damage the drought will cause for farmers and ranchers who will be driven out of business by two massive droughts in five years, Miller said.
"They have held on and held on and held on until they can't hold on any more," he said.
Livestock economist David Anderson said the numbers will continue to rise, possibly by a large amount, because continued triple-digit temperatures and no rainfall are in the state's forecast.
"This drought is ongoing," Anderson said. "Further losses will continue if rainfall does not come soon to establish this year's winter wheat crop and wheat grazing."
Mark Welch, a grains economist, says the Texas wheat crop in 2011 will turn out to be about half of what it would have been in a normal year, with corn production down about 30 percent.
"Perhaps the most telling thing about the 2011 drought was that even irrigated farmers were not spared," Miller said.
"Many irrigators found that water supplies were not able to provide all of the water requirements of the crop in the absence of any rain and excessive heat."
Miller says indications are that the situation is not going to improve any time soon, which is why he labels Wednesday's loss estimates "conservative."
"Climatic models now show that there is another La Nina likely to appear later this fall, which is not a good thing," he said, because drought follows the La Nina phenomenon.
The 12 months that ended July 31 were the driest in Texas history, and 2011 is on the verge of becoming the driest calendar year since records began being kept in the late 19th century, State Climatologist John Nielson-Gammon said.
The figures released Wednesday also do not include the losses caused by drought-fueled wildfires, which have destroyed some 3.3 million acres of Texas rangeland in the past 10 months.
SAN ANTONIO (Reuters) – By Jim Forsyth(Edited by Karen Brooks and Jerry Norton)