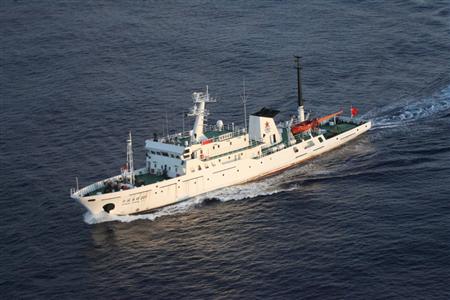 Japan lodged a formal protest on Wednesday after two Chinese ships briefly entered what it regards as its territorial waters near disputed East China Sea islets, the latest flare-up in a long-running dispute.
"Vice Foreign Minister (Kenichiro) Sasae summoned the Chinese ambassador and said the Senkaku islands are Japan's integral territory historically and in terms of international law," Chief Cabinet Secretary Yukio Edano said.
"He protested firmly and demanded they prevent a recurrence" on an incident last year, he told a regular news conference.
Tokyo saw its ties with Beijing deteriorate sharply last year following its arrest of a Chinese skipper whose trawler collided with Japanese patrol boats near the isles, called Senkaku in Japan and Diaoyu in China.
The isles, also claimed by Taiwan, are located near potentially rich maritime gas reserves.
Japan's Coast Guard quoted the Chinese side as saying they were in Chinese waters.
China foreign ministry spokesman Ma Zhaoxu said in a statement issued late Wednesday that China's sovereignty over the islands was "indisputable," adding that the Chinese boats were in the area to "maintain normal order" for fishing.
The two Chinese fishing patrol boats entered the disputed waters near the isles Wednesday morning, and stayed there for a short time, Edano said.
"Chinese fishing patrol ships approached Senkaku 12 times since the collision incident last year. What separates this from the previous 11 times is that they actually entered (Japanese) territorial waters," Edano said.
Japan's Coast Guard notified the Chinese vessels that they are in Japan's territorial waters, to which the Chinese side responded by saying they are in Chinese waters and just conducting their official duties, a Coast Guard spokeswoman said.
TOKYO (Reuters) – (Reporting by Kiyoshi Takenaka; Additional reporting by Ben Blanchard in Beijing; Editing by Ed Lane)