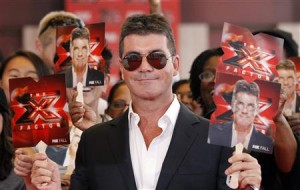 There aren't many reality TV shows that stage their own world premiere.But this is
Simon Cowell
and his much-hyped new singing contest "The X Factor", which rolled out the red carpet in Hollywood on Wednesday night ahead of his return to U.S. television next week.
A year after walking away from his job as a judge on "American Idol" — the most watched show on U.S. TV — the brash Briton has lost none of his self-confidence. His new venture, in which he is both creator and executive producer as well as a judge, is promoted with the simple tagline "He's Back."
"I am feeling excited now. There is always nerves before a launch but it is good nerves…I have always wanted to have, not a film premiere, but a TV premiere in the cinema. I think it is brilliant", Cowell said of Wednesday's splashy event at one of Hollywood's top cinemas.
Americans get their first look at "The X Factor" on September 21. But a pumped-up audience of hundreds of Twitter fans and competition winners from across the United States, were invited to the premiere to see just what the fuss was all about.
"I've never been to a premiere of a TV show where this many people came out," said Mike Darnell, head of reality TV programing at Fox, as Cowell and his fellow judges entered the movie theater to the booming soundtrack of "Live and Let Die."
"X Factor," already a huge hit in the U.K. offers an unprecedented $5 million prize for the winner. Judges compete with each other as mentors to singers and to groups of performers aged 12 and up who audition in arenas packed with thousands of people.
COWELL, ABDUL REUNITED
The show brings Cowell's cutting sarcasm back to primetime television and reunites him with his old "American Idol" sparring partner, the erratic but endearing Paula Abdul. Former Pussycat Dolls lead singer Nicole Scherzinger and record producer Antonio "L.A, " Reid complete the judging panel.
"Paula can be a bit wacky at times, but Nicole isn't far behind," Cowell quipped, going on to describe working with Abdul as "like getting an old dog back from the rescue pound. It's kind of grateful to see you, and the relationship is back intact."
Cowell has set the bar high for the "X Factor", calling it a "game-changer" for TV that he says will thrash the competition and beat "American Idol" — also on Fox — as the most popular show in America.
Fox and advertisers are also looking for results. Advertisers have spent up to $400,000 for a 30 second spot, and Fox hopes that it will help reverse the network's traditionally patchy showing in the fall TV ratings.
According to Cowell, Fox was nervous about taking the leap. "The network would initially have been happier if we had all stayed on 'Idol' for the rest of our lives and there wouldn't be another show," he said ahead of the premiere.
But Cowell said Fox later accepted that, given the show's success in the UK, a competitor might come along. "They didn't have to be dragged kicking and screaming to it in the end. But these are expensive shows to produce," he said.
Getting the show off the ground in the U.S. hasn't been without challenges. Cowell made a rare misstep earlier this year when he chose British singer Cheryl Cole — unknown in the United States — as a judge and then swiftly removed her when she underperformed in early tapings.
In the version Americans will see next week, Cole is on the first show, but not on the second — a change introduced merely with the line "a new city, and a new judge".
"Lots of things went wrong along the way," Cowell said of the Cole saga. "Bad things happen when you make reality shows, but you've just got to deal with it."
LOS ANGELES (Reuters) – By Jill Serjeant(Reporting by Jill Serjeant; Editing by Bob Tourtellotte)