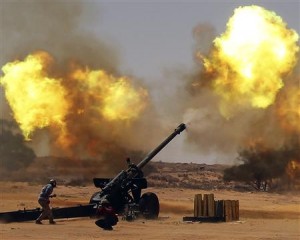 The forces of
Libya
's new leaders attacked two besieged towns on Friday, storming into
Bani Walid
and pushing forward at
Sirte
, as they tried to finish off resistance from diehard supporters of
Muammar Gaddafi
.At
Bani Walid
, a bastion of tribal loyalists in the desert 180 km (110 miles) southeast of
Tripoli
, a Reuters correspondent watched anti-
Gaddafi
fighters move forward under mortar, rocket and sniper fire, advancing from house to house and sheltering behind walls as shrapnel and bullets flew.
Though the forces of the National Transitional Council (NTC) said they took a key valley leading to the center, the defense remained ferocious after a two-week siege of the town where senior figures in the old government may have taken refuge.
On the outskirts of Sirte, Gaddafi's birthplace on the Mediterranean coast, another Reuters correspondent watched scores of trucks mounted with heavy machineguns, as well as four tanks, advancing on the sprawling seaside city.
Explosions, rapid gunfire and the scream of heavy rockets came from the center of the city as black clouds of smoke curled into the sky above. NATO planes roared overhead.
Nearly four weeks after a ragged coalition of rebel fighters, backed by a six-month NATO air campaign, overran his capital and ended his 42 years of personal rule, Gaddafi, 69, is still at large and commanding loyalty from at least hundreds of armed men, concentrated from Sirte, through Bani Walid and deep into the Sahara desert around the southern city of Sabha.
The new leadership, struggling to maintain unity and restore order as international powers line up to offer aid and seek contracts for oil and reconstruction contracts, says Gaddafi and his sons and aides pose a threat, at the very least of insurgent attacks, and wants to capture their last bastions.
In the latest visit from abroad, Turkish Prime Minister Tayyip Erdogan arrived in Tripoli to offer his share of help for the new leadership and, like the French and British leaders who passed through on Thursday, to stake a claim for rewards for supporting the uprising against Gaddafi.
BANI WALID FIGHTING
At Bani Walid, truckloads of NTC fighters shouting "Let's go! Bani Walid!" and columns of pickup trucks mounted with anti-aircraft guns had advanced on the town in early morning.
"We are going in. We finally have the orders," Mohammed Ahmed said, his rifle sticking out of his car window. "God is greatest. God willing, Bani Walid will be free today."
Throughout the morning, a Reuters correspondent on the northern edge of the town heard heavy fighting within Bani Walid, from which many of the 100,000 residents had fled earlier in the week. Black smoke rose overhead and mortars and Grad rockets landed around the government lines outside.
"It is a very strong resistance," fighter Isham al-Nasser said as he returned from the frontline in a convoy.
In the northern outskirts, streets were deserted with few civilians in sight. Houses were peppered with bullet holes.
Local farmer Mohamed Khalil Mohamed, 31, said the end of the siege and victory for Gaddafi's opponents would be welcome: "At first we were afraid because we didn't know who they were but now that we have seen them, we are very happy."
The traditional stronghold of Libya's biggest tribal grouping, Bani Walid's complex mix of loyalties is a proving ground for the ability of the new leadership in Tripoli to hold together a nation whose historic divisions Gaddafi exploited.
SIRTE ASSAULT
At Sirte, NTC fighters massed around a breeze-block mosque on the outskirts, while others drove on toward the center accompanied by two tanks. Mohammed, a 23-year-old fighter from the city of Misrata said the resistance was coming from pockets of Gaddafi supporters dotted around a city which Gaddafi developed from a village into a would-be "capital of Africa."
"They have got heavy weapons," Mohammed said. "Gaddafi has been gathering heavy weapons for 42 years. So far we haven't had any problems with snipers, but maybe they are inside the city … We are regrouping, pulling back, hitting them with heavy weapons and then advancing again."
Al Jazeera television said NTC forces had taken Sirte's airport, which lies some 10 km (six miles) south of the city.
Gaddafi's spokesman said he had thousands of supporters.
"We are telling you that as of tomorrow there will be atrocious attacks by NATO and their agents on the ground on the resisting towns of Sirte, Bani Walid and Sabha," Moussa Ibrahim told Syrian-based Arrai television late on Thursday.
The television said 16 people had been killed in Sirte, including women and children, as a result of NATO bombing, and that Gaddafi forces had destroyed a NATO warship and vehicles.
A NATO spokesman dismissed those claims and said its air forces struck military targets, including a tank and several missile systems, but was unaware of any civilian casualties.
"It is clear that Gaddafi forces are once again trying to spread rumours, claiming unsubstantiated victories and attempting to terrorize the local population," said Colonel Roland Lavoie. "The allegation about destroying a NATO warship is ridiculous and quite illustrative of Gaddafi's desperate attempts to fabricate positive news."
TURKEY'S ROLE
Erdogan, on a North African tour to assert Ankara's regional influence, will be hoping to reap political and economic dividends from Libya's new rulers for his country's help in their struggle to end Gaddafi's grip on power.
France and Britain spearheaded the air campaign that ousted Gaddafi, but Turkey — which had contracts worth $15 billion in Libya — backed it reluctantly and was slow to recognize those now leading the oil-rich north African state.
French President Nicolas Sarkozy and British Prime Minister David Cameron were told their support may be repaid in business contracts with the oil-rich North African state.
A Turkish ship evacuated civilians from the coastal city of Misrata while it was besieged by Gaddafi forces, and Ankara has recently been vocal in supporting the NTC and has provided it with $300 million in cash, loans and other aid.
Turkish companies with business in Libya are hoping the Council will honor pending payments once assets are unfrozen, and Energy Minister Taner Yildiz has said he wants state-owned oil and gas exploration company TPAO to resume oil exploration and production work in Libya if security is established.
Erdogan, who has also visited Egypt and Tunisia this week, has been holding up Turkey's blend of Islam and democracy as a model for the Arab uprisings that have toppled longtime rulers in Tunis, Cairo and Tripoli.

BANI WALID/SIRTE, Libya (Reuters) – By Maria Golovnina and Alexander Dziadosz(Reporting by Maria Golovnina at Bani Walid, Alexander Dziadosz near Sirte, William MacLean and Joseph Logan in Tripoli, Sherine El Madany in Ras Lanuf, Emma Farge in Benghazi, Philippa Fletcher and Giles Elgood in London and Barry Malone and Sylvia Westall in Tunis; Writing by Philippa Fletcher and Alastair Macdonald; Editing by Alistair Lyon)