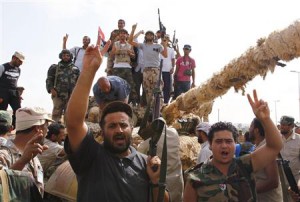 Libyan provisional government forces held off from attacking Muammar
Gaddafi
's last bastions in the country on Tuesday as civilians kept streaming out ahead of more assaults.There were occasional skirmishes outside
Gaddafi
's hometown Sirte on Tuesday, Reuters witnesses said, and doctors at a nearby field hospital said four
National Transitional Council
(NTC) fighters had been killed by pro-
Gaddafi
shelling.
NTC fighters said they had captured a tank from pro-Gaddafi forces who may have been trying to flee in it from Sirte.
The tank, draped in sheepskin, stood on the main highway to the south of the Mediterranean coastal city. Fighters climbed on top of it chanting, "God is greatest," waving the NTC flag and firing their rifles into the air in celebration.
The front line around the interior desert town of Bani Walid was quiet with no fighting, with NTC soldiers and commanders sitting around in small groups discussing battle plans.
More civilians poured out of both towns, fearing more onslaughts after heavy attacks by NTC forces last week failed on several occasions to dislodge pro-Gaddafi units in the towns.
Anti-Gaddafi commanders outside Sirte said they were giving locals a chance to leave before attacking again.
"Gaddafi and his soldiers do not let them move. They keep them like hostages in the house," NTC fighter Mustafa Abukees told Reuters as he manned a checkpoint outside Sirte checking departing cars for weapons.
"It's a really bad situation. We don't know how many families are inside and we don't know how many are coming out."
Humanitarian groups have voiced alarm at reported conditions in Sirte. "There's no electricity, no phone coverage. Nothing," resident Ibrahim Ramadan said, standing by a car packed with his family at a checkpoint.
Gaddafi reminded the NTC of his presence on Tuesday in an recorded message carried by Syrian-based Arrai television, in which he said that NATO planes would not be able to continue operating in Libya for a prolonged period.
"The political system in Libya is a system based on the power of the people … and it is impossible that this system be removed," he said. "The bombs of NATO planes will not last."
NATO has hit targets in both Bani Walid and Sirte and also in the more remote town of Sabha, deep in the Sahara desert, where the NTC says it has now seized the airport.
"Our forces are there in the airport and in the castle … Our flags are flying there," Ahmed Bani, an NTC military spokesman, told a news conference in Tripoli on Monday. It was not possible to get independent confirmation.
Sabha, 770 km (480 miles) south of Tripoli and overlooked by an old fort built by Libya's former Italian colonial rulers, straddles the main desert trail south to neighboring Niger, an escape route already used by members of Gaddafi's entourage.
NTC SENT FLEEING
Any victory around Sabha would be an important boost for NTC forces who have struggled to contain disunity in their ranks and suffered stark reversals on other parts of the battlefield.
Nearly a month after Gaddafi was driven from power, his loyalists in the three towns are still beating back regular NTC assaults. Interim government fighters have been sent fleeing in disarray after failing to storm Gaddafi bastions.
Bani denied an assertion by Gaddafi's spokesman that Gaddafi's forces had captured 17 mercenaries, some of them British and French, in the fight for Bani Walid. "There are no British or French prisoners" in the town, Bani said.
The report by Gaddafi's spokesman Moussa Ibrahim could not be verified and no immediate proof was presented.
"A group was captured in Bani Walid consisting of 17 mercenaries. They are technical experts and they include consultative officers," Ibrahim said on the Syria-based Arrai television, which has backed Gaddafi. "Most of them are French, one of them is from an Asian country that has not been identified, two English people and one Qatari."
French Foreign Minister Alain Juppe said there were "no French mercenaries in Libya," while the British foreign office said it had no information about whether the report was true.
Qatar's foreign ministry was not available for comment. NATO, which is staging air strikes on Gaddafi loyalist positions, says it has no troops on the ground in Libya.
Western nations have sent special forces in the past, and media have reported that private security firms have aided anti-Gaddafi forces in training, targeting and with leadership.
POLITICAL INFIGHTING
The NTC, still based in the eastern city of Benghazi, has faced questions about whether it can unify a country divided on tribal and local lines. A long-promised attempt to set up a more inclusive interim government fell apart overnight.
On Monday, NTC forces were unable to approach the northern gate of Bani Walid, 150 km (95 miles) southeast of Tripoli, to attack the town because of heavy gunfire from Gaddafi loyalists.
"There is a lack of organization so far. Infantrymen are running in all directions," said Zakaria Tuham, a senior fighter with a Tripoli-based unit.
Many fighters spoke of tension between units drawn from Bani Walid itself and those from other parts of the country.
Some fighters openly disobeyed orders. In one incident, an officer from Bani Walid was heckled by troops from Tripoli after he tried to order them to stop shooting in the air.
In Benghazi, interim Prime Minister Mahmoud Jibril failed to name a new cabinet on Sunday when his proposals did not receive full backing from all current members.
Sources familiar with the negotiations said Jibril's own role had been a sticking point. There was also disagreement about whether it was right to form a transitional government before declaring Libya "liberated," which NTC officials say can only happen when all Gaddafi loyalists are defeated.
The political infighting reveals some of the fractures in an alliance that was united in civil war by hatred of Gaddafi but remains split among pro-Western liberals, underground Islamist guerrillas and defectors from Gaddafi's government.
The NTC has its roots in Libya's east, but most of the militiamen who finally succeeded in driving Gaddafi out of Tripoli are from towns in the west.

SIRTE / BANI WALID Libya (Reuters) – By Alexander Dziadosz and Maria Golovnina(Writing by Barry Malone; Editing by Mark Heinrich)