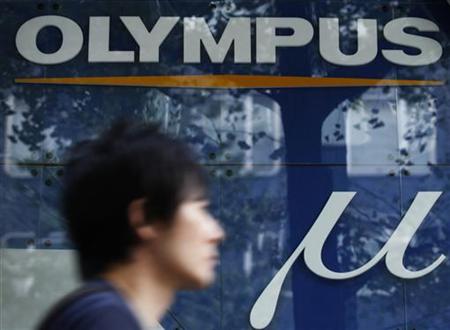 Olympus
Corp on Tuesday named six men, including a former Japanese supreme court justice, to investigate past M&A deals at the core of a scandal engulfing the endoscope and camera maker in a bid to stem an exodus of irate investors.The group, including lawyers and an accountant with experience investigating governance at a bank, power company and consumer electronics maker, were chosen based on guidelines on third-party panels issued by the
Japan Federation of Bar Associations
,
Olympus
said in a statement.
None of the six have had any previous association with the company, an Olympus spokeswoman said. As yet, no deadline for the group to report its findings has been set, she added.
"It's an experienced group and looks good, but how they will proceed with the investigation is still unclear and there is also the question of how much cooperation they will get, including from Olympus," said Kengo Nishiyama, an analyst at Nomura Holdings, who is an expert on corporate governance.
The all-Japanese committee will look into $687 million in payments made to a financial adviser for the $2 billion purchase of British medical equipment maker Gyrus in 2008, the biggest such payment ever, and the acquisition of three companies in Japan that Olympus, under chairman Tsuyoshi Kikukawa's decade-long reign at the company, later largely wrote off.
The panel's chairman, Tatsuo Kainaka, who served as a supreme court justice for seven years, earlier this year led an investigation into the crash of cash machines operated by Japan's No.2 bank, Mizuho Financial Group.
He was joined by Hideki Nakagome, a retired judge who served on a panel investigating Tokyo Electric Power's nuclear accident at its Fukushima plant. Also named to the panel was ex-prosecutor Tomoyoshi Arita, and two lawyers from private practice, Eiji Katayama and Osamu Sudo, who chaired a group investigating JVC Kenwood Corp, which last year was forced to issue a warning about its status as a going concern. Also named to the panel was accountant Katsuaki Takiguchi.
Katayama, Sudo, Kainaka and Nakagome have not handled cases involving mergers and acquisitions, according to legal filings from legal publisher Westlaw Japan's database.
Skeptical investors were closely watching for any attempt by Olympus management to appoint investigators who may be sympathetic to the their position.
"I won't be dealing with Olympus shares any longer until everything becomes clear," a fund manager said, declining to be identified because of the sensitivity of issue.
A review in 2009 commissioned by Olympus' auditing board cleared management of misconduct in the now-controversial acquisition of three obscure Japanese firms. That report came just few days after Olympus on May 12 warned it would post an annual net loss of 114.8 billion yen ($1.5 billion) due to a massive write down of assets, details of which were undisclosed at the time.
Pressure on Olympus to clean house now has intensified in the past several days, even after the resignation of Kikukawa, the executive who led the ouster of CEO Michael Woodford that prompted Woodford to turn whistleblower.
Woodford said he was sacked for asking too many questions about the deals. Olympus says it did nothing wrong and insists the Briton had to go because he was a poor manager.
The head of the Tokyo Stock Exchange on Friday criticized Olympus management for its handling of a crisis that has wiped out half its market value and warned that it risked legal action from shareholders unless the probe was truly independent.
Major shareholders too are clamoring for disclosure of what went on in the Olympus boardroom when directors agreed to the advisory fees and acquisitions at home.
Southeastern Asset Management, the company's largest non-Japanese investor, wants Olympus to publish minutes of board meetings related to the payments, a request Olympus has so far declined.
Southeastern said it wanted a former CFO of a major Japanese firm, whom it did not identify, to join the review.
Pressure on the firm to act has also come from Japan's prime minister, Yoshihiko Noda, who in an interview with the Financial Times asked the company for clarification of an incident that has undermined Japan's global corporate governance standing.
In Japan, however, third-party probes are generally vulnerable to manipulation by management because they have no legal authority, which can impede their access to information and allow management to ignore their recommendations, according to Nicholas Benes, head of the Board Director Training Institute of Japan, a non-profit organization certified by the Japanese government.
This problem was evident last month when Kyushu Electric watered down a report by a third-party investigation into its alleged attempts to manipulate public opinion on the restarting of nuclear reactors, angering the lawyer who led the investigation and industry minister Yukio Edano.
"Unless the panel is fully independent then an investigation is pointless," said Taiji Okusu, a senior official at the Japan Corporate Governance Forum.
($1 = 77.975 Japanese yen)
TOKYO (Reuters) -  By Tim Kelly(Additional reporting by Emi Emoto and Nathan Layne; Editing by Edmund Klamann, Chris Gallagher and Matt Driskill)