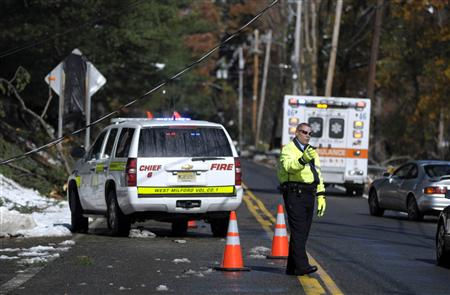 Cold, tired and frustrated, residents of more than 1.6 million homes in the Northeast remained without power on Tuesday and some were told it could take 10 more days to restore electricity after the rare and deadly October snowstorm.Nerves frayed, tempers flared in hard hit
Connecticut
on the fourth day without power since Saturday, when the unseasonably early storm raged from
West Virginia
to
Maine
, bringing down tree limbs and downing power lines.
At the peak of the storm, more than 800,000 homes in Connecticut were in the dark, prompting Governor Dannel Malloy to call it the worst power outage in history.
It could be days before all houses across the region have power again, with some residents in the northwestern part of Connecticut being told it may be 10 days or more before lights come back on.
Hotels in central Connecticut were sold out as residents escaped homes without heat and electricity.
The power outage crippled traffic lights, causing a rash of fender benders, and knocked out home water wells, leaving toilets out of commission.
A woman in the town of Newington threw coffee in another person's face after she said she was cut off in a snaking line of about 40 cars waiting to fill up her vehicle's tank at a gas station.
In the New York City metro area, extreme delays on storm-battered train lines operated by New Jersey Transit forced some commuters to opt instead to drive to work, jamming roadways with hour-long traffic backups.
The wintry mess over the weekend blanketed cities and towns across the region with record snowfall for October, including 32 inches of snow measured in the western Massachusetts town of Peru, according to the National Weather Service.
Weather was blamed for at least 13 deaths, most on slippery roads.
Nearly 1,800 people sought warmth overnight in 32 shelters open across Connecticut, New Hampshire and Massachusetts, the American Red Cross said.
In New Hampshire, where at the peak 315,000 households were out of power, people hunkered down in an emergency shelter at Memorial High School in Manchester, sleeping on cots in the gymnasium and in other rooms set up for families. A warm dinner was donated by a local restaurant, with Halloween candy for dessert.
Some people sought refuge at local businesses, like a nearby Panera Bread where Kathie Dinen was camped out, working on her laptop on Tuesday morning.
"There's a tree, right on top of a wire, on my street, right by the school bus stop, and nothing has happened since Sunday," said Dinen, 64, from Bedford.
"My husband and I went to the YMCA to take a shower. We're not even members… I went to the front desk and just started bawling."
The massive outages continuing on Tuesday include roughly 668,000 customers still without power in Connecticut; about 326,000 in Massachusetts; more than 95,000 in New Jersey; at least 45,000 in Pennsylvania; at least 118,000 in New York; and about 135,000 in New Hampshire.
MERIDEN, Connecticut (Reuters) – By Mary Ellen Godin(Additional reporting by Ros Krasny in New Hampshire; Barbara Goldberg in New York; Additional reporting and writing by Lauren Keiper in Boston; Editing by Greg McCune)