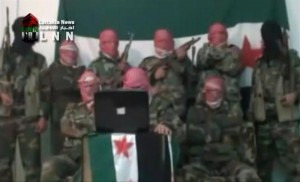 Syrian army
defectors may have killed or wounded 20 security police in an attack on a
Damascus intelligence
base that
Russia
said on Thursday had brought
Syria
closer to civil war.It was not possible to verify the casualty toll, given by opposition sources after Wednesday's assault on an
Air Force Intelligence
complex in Harasta, a suburb of the capital.
The authorities have not mentioned the attack. Syria has barred most foreign media since unrest began in March.
The attack was the first of its kind in an eight-month revolt against President Bashar al-Assad, who is under growing Arab and Western pressure to halt violent repression of dissent that the United Nations says has killed more than 3,500.
Russian Foreign Minister Sergei Lavrov, whose country is one of Syria's last foreign friends, said the raid by the Free Syrian Army was "already completely similar to real civil war."
He called for talks between Assad's government and its opponents at the Cairo-based Arab League.
The League confirmed it had suspended Syria on Wednesday, gave it three days to comply with an Arab peace plan and said it was considering possible economic sanctions.
France and Morocco withdrew their ambassadors from Damascus after attacks on their diplomatic missions in Syria.
RETALIATORY RAIDS
Residents of Harasta said army deserters had fired rocket-propelled grenades (RPGs) and machineguns at the intelligence compound for 10 minutes, provoking retaliatory raids in the district, where they said about 70 people had been detained.
"Roadblocks have been set up everywhere in Harasta, especially in al-Seil neighborhood, where activists are concentrated. Five textile workshops were ransacked," one resident said.
"Air Force intelligence trucks are patrolling the suburb also, and the agents are carrying RPGs."
Together with Military Intelligence, Air Force Intelligence is in charge of preventing dissent within the armed forces.
Syria blames the violence on foreign-backed armed groups it says have killed more than 1,100 soldiers and police.
Catherine Altalli, a senior member of the opposition Syrian National Council, said the attack on the intelligence base was understandable after months in which peaceful protesters had faced violence, detention and torture.
"This attack was carried out by members of the Syrian Free Army, not armed civilians," she told Reuters. "But at the end the people will look to find a way to protect themselves.
"I am not saying this is right. There have to be limits. But what is unacceptable is that every day bodies come out with marks of torture from Air Force Intelligence buildings and other secret police dungeons across Syria."
Washington said it had few details and no confirmation of the incident, but that Assad was courting trouble.
"It's not surprising that we are now seeing this kind of violence," State Department spokesman Mark Toner said.
"We don't condone it in any way, shape or form. But let's be very clear that it is the brutal tactics of Assad and his regime in dealing with what began as a non-violent movement (that) is now taking Syria down a very dangerous path."
Syria's pervasive security apparatus, dominated by Assad's minority Alawite sect, underpins the power structure that has enabled Assad and his father before him to rule for 41 years.
The bloodshed in Syria has angered other Arab and Western nations, whose criticism of Assad led to several attacks on diplomatic missions in Damascus and other cities this week.
Syrian state media said the authorities had vowed to prosecute anyone who carried out such attacks.
FRANCES SAYS HELPING OPPOSITION
France said it was encouraging Syrian opposition groups, which include the Paris-based Syrian National Council, but remained opposed to outside military intervention.
"We have had contacts with them… in any case we are helping them, we are encouraging them to get organized," Foreign Minister Alain Juppe told French BFM radio.
France was the first Western nation to recognize Libyan rebels in March, but has yet to endorse any Syrian group.
It said on Wednesday it was working with the Arab League on a new U.N. Security Council motion on Syria, although a similar initiative last month was vetoed by China and Russia.
France, Britain and Germany are also calling for a vote on Tuesday in the United Nations General Assembly, where no power has a veto, to condemn the violence in Syria.
Burhan Ghalioun, head of the Syrian National Council, called for a calming of sectarian tensions between Alawites and majority Sunnis, especially in the restive city of Homs.
"We have seen in the last few weeks kidnappings, assassination and score-settling among members of the same people, even from within the sons of the revolution, which poses a dangerous threat to the gains of the revolution and offers a big service to the regime," he said in a statement.
AMMAN (Reuters) – By Khaled Yacoub Oweis(Additional reporting by Souhail Karam in Rabat, Dominic Evans in Beirut, John Irish in Paris, Steve Gutterman and Thomas Grove in Moscow; Writing by Alistair Lyon Editing by Robert Woodward)