A U.S.
appeals court
appeared skeptical on Thursday toward attempts by
California
gay marriage opponents to overturn a landmark court decision because the judge overseeing the case did not disclose his own long-term homosexual relationship.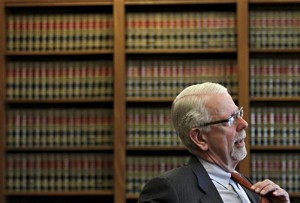 California voters banned same sex marriages in 2008 by approving the Proposition 8 ballot initiative. But last year U.S. District Judge
Vaughn Walker
in
San Francisco
ruled the measure unconstitutional.
Shortly after Walker retired earlier this year, he disclosed his homosexuality in the press for the first time, saying he is in a 10-year relationship with a physician.
That led opponents of same-sex marriage to ask that Walker's ruling be vacated. Walker's relationship put him in the same position as the plaintiffs and should have been disclosed when he was assigned to the case, their attorneys argued.
U.S. District Judge James Ware rejected that argument in June, and Prop 8 supporters appealed.
A three-judge panel of the 9th Circuit Court of Appeals heard two hours of oral arguments on Thursday. "So a married judge could never hear a divorce?" asked Judge Michael Daly Hawkins.
More than 40 U.S. states have outlawed same sex marriage, and the California challenge could have a national impact if the U.S. Supreme Court ultimately takes up the case.
At the hearing on Thursday, Charles Cooper, an attorney for Prop 8 supporters, said he didn't see any problem with a married judge overseeing a divorce. But Walker had a duty to say whether he had an interest in getting married, Cooper said.
"He knew something that the litigants and the public did not know," he said.
Yet Judge N. Randy Smith, who was nominated by George W. Bush, prodded Cooper on the high degree of deference the appellate court must give to Ware in this case.
Ware's findings have to be "illogical, implausible and without support, isn't that true?" Smith asked.
David Boies, an attorney for the two couples challenging California's ban, said Walker did nothing wrong. A ruling to the contrary would subject judges in minority groups to a double standard, he said.
"If something is irrelevant, you don't have to disclose it," Boies said.
The 9th Circuit panel also heard arguments on whether to release a video recording of the 2010 trial. The appellate panel previously heard arguments on the core constitutional issues in the case, and it can rule at any time.
The appeals concerning the trial video and Walker's relationship in the 9th Circuit are Perry v. Brown, 11-17255 and 11-16577.
By Dan Levine
SAN FRANCISCO (Reuters) – (Editing by Cynthia Osterman)