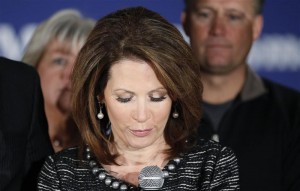 Representative
Michele Bachmann
ended her campaign to become the 2012 Republican presidential nominee on Wednesday and called on supporters to rally behind the party's eventual choice.Bachmann ignored shouted questions from reporters on whom she would endorse.
"I have decided to stand aside … I will not be continuing in this race for the presidency," Bachmann told a news conference in Des Moines, Iowa.
Bachmann said Republicans must unite behind the Republican presidential nominee to roll back President Barack Obama's healthcare overhaul and "take back our country."
"I believe that we must rally around the person that our country and our party and our people select to be that standard bearer," she told aides, reporters and supporters gathered at her hotel.
She hugged several weeping aides before climbing aboard her campaign bus.
Alice Stewart, Bachmann campaign spokeswoman, said: "In terms of endorsing, she will take time and visit with them (Republican candidates) and speak with them but there has been no decision on that yet."
Bachmann's announcement came a day after she received only 5 percent of the vote in the Iowa nominating caucuses, dealing what many saw as a fatal blow to her presidential ambitions.
Her decision to pull out could favor rival Rick Santorum, who narrowly came in second to Mitt Romney in Tuesday's Iowa caucuses.
Santorum, Bachmann and Texas Governor Rick Perry have been courting support from evangelical Christians. If a significant number of evangelicals eventually rally behind Santorum, his long-shot campaign could receive a major boost.
The Iowa-born Bachmann, 55, was once a leading light for evangelical voters in Iowa but garnered only 5 percent of the vote in Tuesday's first contest to pick a candidate to challenge Obama in the November election.
Those results raised the already colossal odds against Bachmann's bid.
Santorum, a former senator from Pennsylvania, and Ron Paul, a Texas congressman with libertarian views, garnered a larger percentage of the crucial conservative vote and are now the leading alternatives to front-runner Romney, the former Massachusetts governor, as the candidates prepare for the next voting contest in New Hampshire on January 10.
Bachmann shot to the top of polls in August after winning the Ames Straw Poll in Iowa, but later suffered from staff departures and fundraising troubles. By the end of December, her popularity had dwindled in the state.
By Eric Johnson
DES MOINES, Iowa (Reuters) – (Additional reporting By Harriet McLeod and Susan Heavey, writing by Eric Johnson and Ross Colvin; Editing by Vicki Allen)