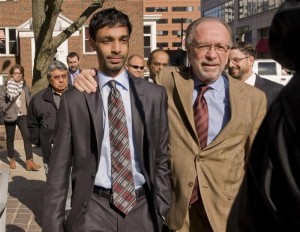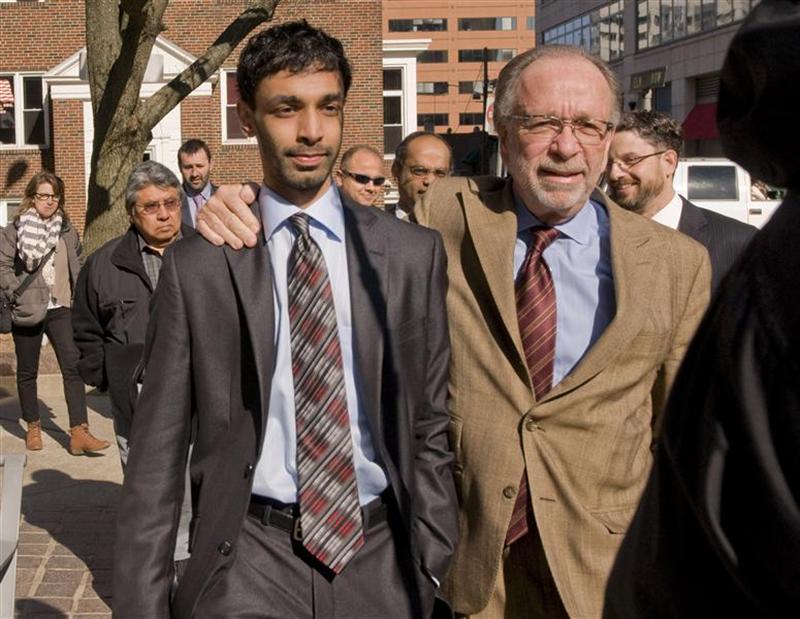 A defense lawyer in closing arguments on Tuesday at the
Rutgers University
gay bullying trial said
Dharun Ravi
's decision to spy on his roommate's sexual encounter with another man should be excused as the immature behavior of a "typical 18-year-old kid" and not punished as a hate crime.
Steven Altman
said Ravi had no bias against gays and, instead, childishly decided to use a webcam to covertly see dormmate
Tyler Clementi
's tryst with an older man.
"Why we're here is because, on September 19 and September 21 of 2010, an 18-year-old boy, a kid, a college freshman, had an experience, had an encounter and he wasn't ready for, that he didn't expect, that he was surprised by, that he hadn't anticipated… and he didn't know how to deal with it because he was a kid," Altman told the jury.
Clementi killed himself on September 22, 2010, and his death was widely seen as a consequence of gay bullying.
Ravi, now 20, who is not charged in Clementi's death, is charged with 15 counts of invasion of privacy, witness and evidence tampering and bias intimidation, which is a hate crime.
He faces up to 10 years in prison if convicted of the most serious charges. Although Ravi has lived nearly his entire life in the United States, he is not a citizen, and could be deported back to his native India.
Ravi and Clementi's paths first crossed in August 2010 when they moved into the same cramped freshmen dorm room, setting off the chain of events at the center of the three-week trial in Middlesex County, New Jersey Court.
The two seemed to have little in common: Ravi was an outwardly confident and popular student who enjoyed tinkering with computers and playing on the university's Ultimate Frisbee team. Clementi was a quieter young man with a talent for the violin.
Although the two roommates were initially wary of one another, according to online chats with friends that were transcribed in court papers, they appeared to get along for the first three weeks of school.
Prosecutors called roughly two dozen witnesses, none of whom said they had ever heard Ravi express discomfort about homosexuality or Clementi's sexuality in particular.
Their relationship began to fray on Sunday, September 19, 2010. Clementi was expecting a visit that evening from a man he recently met online and asked Ravi to excuse himself from the room for the evening.
The man, then 30, has been identified only as M.B. and testified for the prosecution.
Ravi agreed to Clementi's request, but witnesses recall him being flustered and alarmed at the man's age and "sketchy" appearance. He was concerned about his iPad being stolen, witnesses said, and was also curious about what was going on his room and whether his roommate was, as he suspected, gay.
Ravi went into the nearby room of his friend Molly Wei, and together they used her laptop to access his computer webcam to look into his room. Wei testified that they saw an indistinct image of the two men apparently kissing while fully dressed, and that they shut off the feed within seconds in a state of shock.
Ravi wrote about it on his Twitter page: "Saw my roommate making out with a dude. Yay."
Clementi was annoyed to read on Ravi's Twitter page that he had been seen through the webcam, and made an online housing request to change to a single room. He resolved not to let it affect his plans to have M.B. back to his room on Tuesday, September 21, and again asked Ravi to excuse himself.
Ravi agreed, and told friends in person and on his Twitter page to access his webcam to watch Clementi's date.
Ravi told investigators that he ended up disabling his video chat software before leaving for Frisbee practice that evening. Clementi also was careful to unplug Ravi's computer, and no video footage was seen that evening of M.B.'s brief visit.
The following evening Clementi updated his Facebook status to say he was jumping off the George Washington Bridge around the same time Ravi was composing a series of apologetic text messages to Clementi.
By Jonathan Allen
NEW BRUNSWICK, New Jersey (Reuters) -(Editing By Barbara Goldberg and Paul Thomasch)