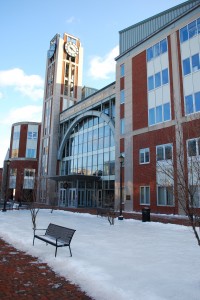 Jury deliberations began on Wednesday in the gay bullying trial of a former
Rutgers University
student accused of using a webcam to spy on his roommate's sexual encounter with another man in the days before he committed suicide.Terms like "Tweeting," "IM" and "texting" are part of the evidence that the panel of 12 jurors must weigh to decide whether to convict Dharun Ravi of any of the 15 counts of invasion of privacy, witness tampering and bias intimidation, which is a hate crime.
Ravi, now 20, is not charged in the death of Tyler Clementi, 18, who jumped off the George Washington Bridge on September 22, 2010 after learning his freshman roommate covertly saw him kissing another man and appeared to encourage others to watch through a camera on Ravi's computer.
Ravi faces up to 10 years in prison if convicted of the most serious charges. Although he has lived nearly his entire life with his family in the United States, he is not a citizen and could be deported back to India, where he was born.
The seven women and five men on the jury, who appear to range in age from their 20s to 70s, were urged during defense summations to dismiss Ravi's actions as those of a foolish child trying to impress others rather than a bully who harbored a prejudice against gays.
The prosecution in its closing said Ravi's messages about Clementi on Twitter and other social media, including one inviting others to a "viewing party" through a webcam aimed at Clementi's bed after he asked for the room alone, showed his animosity toward his gay roommate.
Clementi checked Ravi's Twitter account 38 times in the two days before he killed himself, the prosecution told the jury.
By Jonathan Allen and Aman Ali
NEW BRUNSWICK, New Jersey (Reuters) – (Editing By Barbara Goldberg and Paul Thomasch)