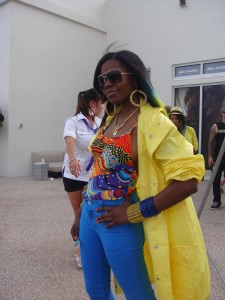 Baltimore's premier dance-rap spitfire Rye Rye unleashes her brand new single "Boom Boom"  The bouncy track, produced by Rudy 'Mayru' Maya (Rihanna), samples the Vengaboys' 1999 hit "Boom Boom Boom Boom."
The video for the single, directed by Legs (Florence And The Machine, Goldfrapp) .
Dubbed 'the voice of Baltimore,' 21-year-old hip hop dynamo Rye Rye is no stranger to the limelight.  She was the first artist signed to M.I.A's label N.E.E.T. Records and past collaborations have included hits with mentors M.I.A., Diplo and DJ Blaqstarr. More recently she teamed with Scandinavian dance queen Robyn for summer's smash, "Never Will Be Mine" and Far East Movement on their fall track "Jello."
Declared "eminently danceable, with up-tempo break beats, electronic flourishes, and double-Dutch-like rhymes," by the The New York Times, Rye Rye announces a May 15th release date for her debut album. GO! POP! BANG! guaranteeing the MC's bouncy playground jams will be pumping out of every actual schoolyard—and car stereo, club, block party, and house party—just in time for summer.
GO! POP! BANG! sounds exactly like its title: an energetic rush of  Baltimore beats by Blaqstarr, M.I.A., Bangladesh, Steve Angello, and more topped by Rye Rye's motor-mouth flow. Rolling Stone, the New York Times, and the Fader have been anxiously awaiting the album's arrival, but nobody is more psyched than the colorful MC herself. "I'm super excited about my album finally coming out—jumping for joy!" Rye Rye says. "GO! POP! BANG! feels like a breath of fresh air and you guys can expect some booty popping, heavy bass, fun and tight rhymes over massive beats!"
M.I.A. first stumbled upon her protégé on Blaqstarr's 2006 club hit "Shake It Down to the Ground" (Rye Rye got her break after rapping on his answering machine) and invited the then-teenage dancer-turned-MC on the road. Rye Rye then released mind-blowingly catchy jams like badass thumper "Drop" and the sing-songy M.I.A. team-up "Sunshine," which Rolling Stone called "a sweet, percolating electro-pop cut that sounds like Judy Jetson's fave double-dutch jam."
[youtube 7i3y1JvXtv0]
Rye Rye's quick-tongued rhymes might sound playful, but her witty tracks hit hard, and they've been connecting with fans all over the world. As a special guest on the Cherrytree Pop Alternative Tour Rye Rye performed alongside label mates LMFAO and Far East Movement (to name a few) all over Europe and Canada this past fall.  Just last week Rye Rye teamed up with VICE's music channel, Noisey, for a a once in a lifetime interactive show live-streamed from the Seattle Art Museum where she performed "Boom Boom" for an audience cheering around the world. If you missed the show, you can watch the exclusive director's cut of Rye Rye's Special Engagements concert right now on Noisey.com.