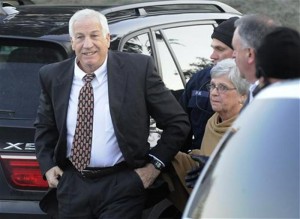 Attorneys for former Penn State assistant coach Jerry Sandusky on Thursday asked an appeals court to delay his trial on child sex abuse charges, after they previously failed to persuade the judge hearing his case.
Sandusky and his attorneys, Joe Amendola and Karl Rominger, petitioned Pennsylvania's Superior Court late on Thursday to review and then stay the start of the once-beloved football coach's trial, which is set to begin on June 11.
They did not provide a reason for seeking the delay in a docket sheet posted online — just five days before jury selection in the case is set to begin — but they previously have argued they need more time to prepare for the trial.
Sandusky, 68, faces 52 counts of child sex abuse charges for allegedly having abusing 10 boys over a 15-year period. The retired coach pleaded not guilty and has been under house arrest since December.
Amendola won a three-week delay in the trial in March but has been unsuccessful since then in getting more time to review the evidence in the case.
His most recent appeal was denied on Wednesday by Centre County Court Judge John Cleland. The judge has been adamant about the need to start jury selection this coming Tuesday, ever since he approved the three-week extension.
Amendola said he wants a second continuance to give experts more time to prepare for Sandusky's trial, to allow his assistant time to recover from scheduled surgery and to more thoroughly review prosecution evidence.
In his order on Wednesday, Cleland said he was denying the request because there is no guarantee Sandusky and his attorneys would be ready after that extension.
Rominger filed a petition for review on Thursday, as well as the application for a stay and an application to seal.
By Mark Shade
HARRISBURG, Pennsylvania (Reuters) – (Editing by Alex Dobuzinskis and Lisa Shumaker)