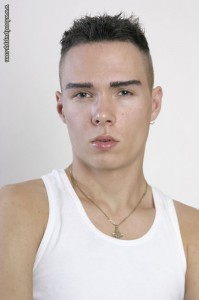 Germany was expected to take a step on Tuesday towards extraditing a Canadian man wanted in his homeland on suspicion of killing and dismembering a Chinese student, then posting a video of the grisly crime online.
Police arrested porn actor Luka Rocco Magnotta, 29, in a Berlin Internet cafe on Monday. He faces first-degree murder charges in Canada over the killing of student Jun Lin, 32, in Montreal. Investigators believe Magnotta mailed his victim's body parts to political parties in the Canadian capital Ottawa.
"Today the man will be brought before an investigating judge who will confirm his arrest," Martin Steltner, a spokesman for the Berlin city prosecutor, told Reuters Television.
Under the rules of Interpol, which had issued a "red notice", its highest type of warning, for Magnotta's detention, a suspect must be held in custody until his extradition. Germany and Canada have a bilateral extradition treaty.
Steltner said he did not know when Magnotta would be extradited to Canada, but added: "The legal process is very complicated."
Police seized Magnotta at the cafe in the multi-cultural district of Neukoelln, south Berlin, after a tip-off from the owner who recognized the suspect as he sat reading articles online about the hunt for himself.
"I wasn't sure if it was him but then I looked at some pictures and thought, that is definitely him. He spoke French, said 'monsieur' and wanted to use the internet," cafe owner Kadir Anlayisli told Reuters Television on Monday.
Magnotta is believed to have entered France on May 26, and French police had been investigating thousands of reported sightings. They alerted German police on Monday that he was headed for Berlin on a Eurolines coach, a French police source said.
The 29-year-old has left a bizarre internet trail as an alleged kitten-killer and bisexual porn star.
Montreal police said that in Magnotta's apartment they found a bloody mattress and pools of blood on the floor and in the refrigerator. They said a janitor found a torso with no head or limbs in a suitcase in an alley behind the building.
Authorities believe that a decomposing foot mailed to the headquarters of the governing Conservative Party in Ottawa on Tuesday and a hand found inside a package at a postal depot were parts of the same person.
By Elisa Oddone
BERLIN (Reuters) – (Writing by Gareth Jones; Editing by Mark Heinrich)