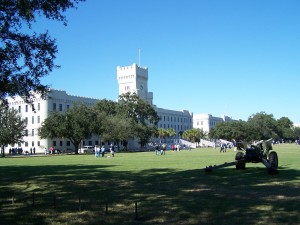 A former South Carolina educator and coach who once worked as a summer camp counselor at The Citadel military college was sentenced to 50 years in prison on Wednesday after pleading guilty to sexual abuse crimes involving 23 young male victims.
Louis "Skip" ReVille, 32, was arrested last fall and accused of abusing boys he had coached at schools and in community recreation programs, taught in public and private schools, and led in Bible study at his church.
Prosecutors said the crimes took place over the course of a decade, with some victims as young as 10. The charges were based on 23 cooperating victims, but ReVille named about 35 victims in all, said prosecutor Scarlett A. Wilson.
"I want to apologize to the victims. I am the only one responsible. I am sorry for what I did," ReVille said during his plea hearing in Charleston.
ReVille's case gained national attention last fall just after former Penn State assistant football coach Jerry Sandusky was arrested and charged with sexually abusing 10 boys over 15 years. Sandusky's trial is underway in Pennsylvania.
ReVille, a 2002 graduate of The Citadel, was hired by the college as a camp counselor for three summers, from 2001 to 2003. There, according to documents released by The Citadel, he lured boys to his room with pizza and Chinese food to view pornography and masturbate while he also masturbated.
In November, the school said it had investigated accusations against ReVille in 2007 but took no action.
After graduating from college, ReVille worked for the next nine years as a sports coach and teacher at several public and private schools in three South Carolina counties. He also was a youth church leader in Mount Pleasant, where he supervised overnight church youth events and formed a Bible study program.
"A MASTER MANIPULATOR"
Prosecutor Debbie Herring-Lash said that ReVille abused children at his home, at the schools where he worked and his church, and in his car after inviting them to his house or driving them to various sports and church events that he supervised.
Prosecutors said that the abuse included multiple oral sex acts and masturbation.
ReVille was assistant principal of Coastal Christian Preparatory School in Mount Pleasant when he was arrested last fall. He faced charges including criminal sexual conduct with a minor in the first and second degrees; criminal solicitation of a minor; lewd acts upon a minor; and dissemination of obscene material to minors.
A man identified only as John Doe No. 13 because he was a sex crime victim testified in court on Wednesday that ReVille "is narcissistic with a God complex. He is a master manipulator. He has no soul. If I was still a religious man, I would call him a demon."
The man, now 25, said he was molested when he was a 16-year-old summer camper at The Citadel. He said the shame he felt from the abuse caused him to start using drugs at age 19 and subsequently to attempt suicide.
He wept as he apologized to other victims, saying he could have stopped ReVille in 2003 if he had reported the summer camp abuse. "I was just too afraid," he said.
Judge R. Markley Dennis Jr. also ordered seven years of court supervision for ReVille after his release from prison.
Three young men who said they were molested by ReVille filed lawsuits in March against The Citadel and its president accusing them of covering up the 2007 report of abuse by a former camper. The Citadel maintains that, according to South Carolina law, its officials and staff are not included in the list of mandatory reporters of child sexual abuse.
Citadel attorney Dawes Cooke Jr. said the school intends "to vigorously defend all three of these cases."
By Harriet McLeod
CHARLESTON, South Carolina (Reuters) – (Editing By Colleen Jenkins and Toni Reinhold)