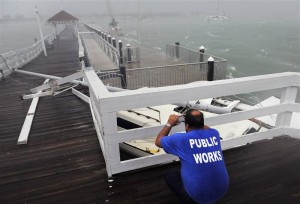 Tropical Storm Debby weakened slightly as it moved slowly over the northern Gulf of Mexico on Monday, dumping heavy rains and threatening to bring flooding and tornadoes to parts of Florida.
Debby, the first named storm of 2012 to move into the Gulf of Mexico, was centered about 75 miles south of Apalachicola, Florida, the National Hurricane Center said in its 11 a.m. EDT (1500 GMT) update.
The storm's maximum sustained winds decreased slightly to 45 miles per hour (75 kilometers per hour) from 50 mph and forecasts predicted there would be little change in its strength over the next couple of days.
Debby has temporarily idled about a quarter of U.S. offshore oil and natural gas production in the Gulf of Mexico, based on figures issued on Sunday by U.S. offshore regulators.
Forecast models show the storm is expected to move slowly this week toward the northern Florida Gulf Coast, possibly unloading as much as 10 to 15 inches of rain in some areas of the state, with isolated amounts of much as 25 inches, the hurricane center said.
Steady rainfall spurred by Debby is expected to extend to southern areas of Georgia and South Carolina.
The center warned that tornadoes were possible in the eastern Panhandle, along with western and central parts of Florida and southern Georgia.
On Sunday, Debby spawned tornadoes that killed a woman, severely injured a child and wrecked homes in central Florida in rural Highlands County, according to an emergency management official.
Rescuers in Alabama continued a search on Monday for a swimmer who went missing off the Alabama Gulf Coast near Orange Beach and is presumed drowned.
In the Gulf of Mexico, big offshore operators like BP Plc and Royal Dutch Shell temporarily evacuated some of their production platforms, even as forecast models show Debby headed for Florida and away from the U.S. Gulf waters that are home to about 20 percent of U.S. oil and 6 percent of natural gas output.
As of midday on Sunday, Debby caused 22.7 percent of daily crude oil production to be shut down, up from 7.8 percent on Saturday, and 22.9 percent of daily natural gas output, up from 8.16 percent, according to the U.S. Bureau of Safety and Environmental Enforcement, which oversees oil and gas activity in the Gulf.
The agency will issue updated figures later on Monday.
MIAMI (Reuters) – (Additional reporting by Chris Baltimore in Houston; Writing by Kevin Gray; Editing by Vicki Allen)