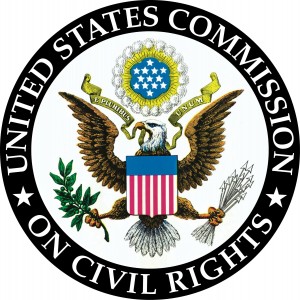 The U.S. Commission on Civil Rights today issued a statement regarding recent state laws passed, and proposals being considered, in the states of North Carolina, Mississippi, Tennessee, and Kansas. The full statement can be viewed here: http://www.usccr.gov/press/2016/PR_Statement_LGBTDiscrimination.pdf.
Commission Chairman Martin R. Castro stated on behalf of the Commission, "Religious freedom is an important foundation of our nation. However, in the past, 'religious liberty' has been used to block racial integration and anti-discrimination laws. Those past efforts failed and this new attempt to revive an old evasive tactic should be rejected as well. The North Carolina and Mississippi laws, and similar legislation proposed in other states, perverts the meaning of religious liberty and perpetuates homophobia, transphobia, marginalizes the transgender and gay community and has no place in our society.
The U.S. Commission on Civil Rights is an independent, bipartisan agency charged with advising the President and Congress on civil rights matters and issuing a federal civil rights enforcement report. For information about Commission's reports and meetings, visit http://www.usccr.gov.
To view the original version on PR Newswire, visit:http://www.prnewswire.com/news-releases/the-us-commission-on-civil-rights-issues-statement-condemning-recent-state-laws-and-pending-proposals-targeting-the-lesbian-gay-bisexual-and-transgender-community-300252911.html
SOURCE U.S. Commission on Civil Rights