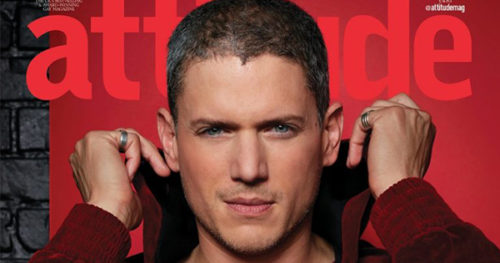 Actor Wentworth Miller has been honored by Attitude as their Man of the Year, with a cover story that delves into his struggles with self-acceptance, leading to serious bouts of depression and suicide attempts.
Miller came out in 2013 in an open letter declining an invitation to Russia, criticizing their anti-LGBT "propaganda" law.
When he was mocked on The Lad Bible's Facebook page for his post "Prison Break" weight gain he shot back that he was suicidal at the time, prompting an apology.
In a preview of the magazine's feature, Wentworth gives advice to LGBTQ youth who are struggling with the same issues he has had to work through over the years.
"I would say what others have said: it gets better. One day, you'll find your tribe. You just have to trust that people are out there waiting to love you and celebrate you for who you are," he says.
"In the meantime, the reality is you might have to be your own tribe. You might have to be your own best friend. That's not something they're going to teach you in school. So start the work of loving yourself."
Full story:
Source: Wentworth Miller, Attitude's Man of the Year, has a message for LGBT youth