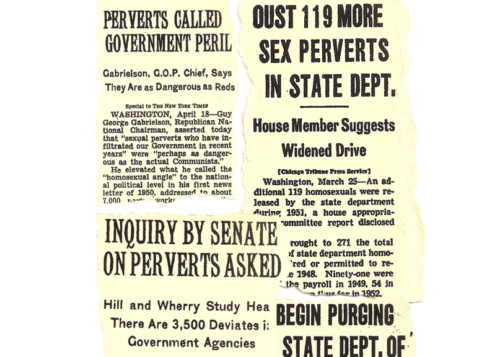 The United States Supreme Court finally legalized marriage equality in its 2015 Obergefell v. Hodges decision. Until 2003, same-sex sexuality remained a criminal offense in 14 states, which the landmark Lawrence v. Texas Supreme Court decision eventually overturned.
While three states in the U.S. have passed laws protecting people's civil rights on the basis of sexual orientation and an additional 19 states include protections on the basis of both sexual orientation and gender identity, the remainder have no such safeguards.
In those remaining states, individuals and organizations can summarily fire or refuse to hire, refuse to rent or sell property, and deny a number of public services based solely on an individual's sexual and/or gender identity.
Not so very long ago, LGBTQ people had no specified protections in any areas of their lives.
Like all civil service employees working during the Eisenhower administration, Madeleine Tress – then a 24-year-old business economist at the Department of Commerce in Washington, D.C. – was required to pass a security investigation as a condition for employment. At her position for only a few months, on that April day in 1959, Madeline was led into a room by two male interrogators who began the "interview" by asking her a few mundane questions regarding her name, where she lived, and her date of birth.
"Miss Tress," one of the interrogators then retorted, "the Commission has information that you are an admitted homosexual. What comment do you wish to make regarding this matter?"
Shocked, Madeleine froze and refused to answer the question. The men disclosed that they had reliable information that she had been seen frequenting a gay bar, the Redskins Lounge, and they named a number of her lesbian and gay male friends.
One of the interrogators then sneered, "How do you like having sex with women? You've never had it good until you've had it from a man."
Tormented into silence, following the grilling, she refused to sign a document admitting her alleged "crime." The next day, Madeleine Tress handed in her official resignation.
By the late 1950s, literally thousands of women and men working in Washington, D.C., experienced similar inquisitorial examinations conducted under the guise of "national security."
Full story:
Source: McCarthyism, the Lavender Scare, and the fight for full LGBT equality